Matryoshka Restaurant is situated in the centre of Gołdap (more about Gołdap on here), 300 metres from the Main Square. Guests can use  the dining room as well as the conference room, both equipped with ventilation and air-conditioning. Above the restaurant there are guest rooms.
Matryoshka Restaurant upholds a border tradition with particular focus on Gołdap's location. The restaurant draws on two cuisines ,on one hand it promotes Polish traditional dishes and , on the other hand the dishes of our northern neighbors. You can eat dishes such as: a few versions of famous dumplings called pelmeni and Russian soups – solianka, zarkoje and chicken soup with kolduny dumplings.
Pelmeni is one of Russia's favourite dishes. According to the etymological dictionary the word -'pelmeni' means 'an ear from dough'. The filling for the 'ears' is a mix of beef and pork in properly chosen proportions. Solianka soup is chowder, aromatic and slightly spicy cooked in broth from several types of meat. The taste is enhanced by pickles, olives and capers. In Russia it was thought to be a dish associated with village get-togethers and that's why it was called 'idyll'. Zarkoje ,which means 'hot', is a goulash soup with meat and vegetables, well seasoned and kept in a little earthen vessel. It is served with a top of yeast-based pastry as a bread to go with the soup.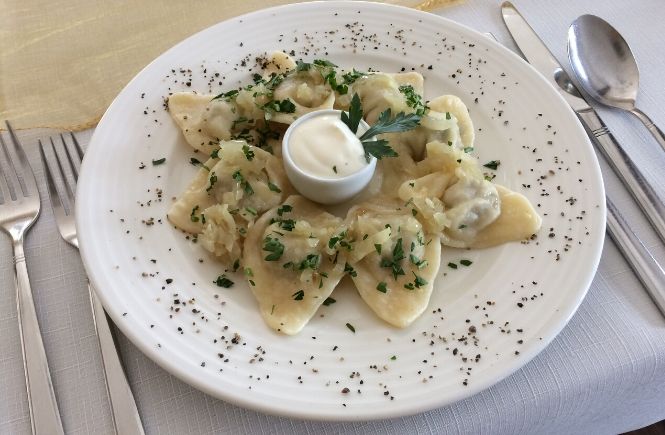 Matryoshka restaurant is the first one in Gołdap which has taken part in the unique project 'On the Culinary Route of Varmia and Masuria' in which films on the subject of food are made. Its producer, Mariusz Kuś a highlander living in Ostróda decided to share his Varmian and Masurian culinary passion. The films shows regional producers, restaurants and hotels where you can eat good food. The project is considered to be completed by releasing a book entitled 'A Culinary Route of Varmia and Masuria' which will be a compendium of the culinary knowledge of the region. You can follow the project on Facebook.
More on www.matrioszkagoldap.pl