Travelling by camper van is believed to be an exciting experience by most travelers. Renting a camper van is fairly easy as nothing more than your driving license is required. There are a lot of camper rental companies in Poland but, it is not cheap and in most cases you need to pay a deposit which you only get back after returning the vehicle undamaged.
Preparing your trip is of utmost importance. First of all, you should have time to get used to driving a camper van because such vehicles move much slower than the average car and you cannot drive everywhere in a camper so access is limited in many cases, parking for longer periods and contact with power points must be considered too. Disposing of liquid waste from camper vans must be planned because it is possible only in precisely defined places and it is often payable. Although, campers from rental companies are well furnished and equipped, it is a good idea to take extra furniture such as: a table, deckchairs and a canopy with you. A lot of people take their own bikes and campers often have special racks for transporting bikes and canoeing equipment.
If you decide to go sightseeing in Warmia and Masuria by camper, you will be lucky to have the possibility to camp in wonderful places such as: at the forest edge or on the shores of crystal clear lakes where you will be woken up by birds singing and put to sleep by crickets chirping melodically. The following options that are recommended, offer not only picturesque locations but also infrastructure that makes your camping experience much more comfortable and enjoyable.
Camping Tumiany
Camping Tumiany is situated on the main kayaking route on the Dadaj river, the Pisa river and the Łyna river. The location is incredibly picturesque – two lakes surrounding the resort as well as floodplains and forests are two assets that help make the place unique. If you want to stay here longer, you can use the sports-recreational facilities: kayaking trips, walk, bike trips, horse riding, fitness, pedal boats ,boat cruises, tennis and volleyball tournaments, swimming in the lake and sunbathing on a sandy beach that belongs to the resort- all of this awaits tourists in Tumiany. If you get hungry you do not have to look far to find an appropriate place to eat well. There is the restaurant 'With a view' which serves delicious regional cuisine, tasty fish and home-made bread.
Vagabond in Mikołajki
If you like a fashionable, lively resort but, do not want to live at the epicentre of events, you should go to Vagabond Resort located in famous Mikołajki. You will find meadows and a green camping area with all modern conveniences which guarantee a relaxing holiday close to nature. At the facility there is a canteen with home-made dishes and a a bar which serves dishes based on fresh fish from surrounding lakes.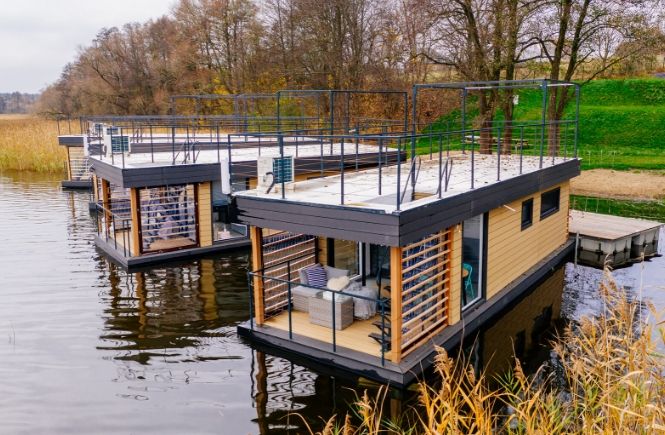 Pajda Mazur
Pajda Mazur Resort is situated in Kątno beside Lake Szeląg Wielki. In its area there are houses on the water, wooden huts, modern apartments, camper and caravan stands, camping area and a restaurant with delicious regional Masurian cuisine and home-baked bread. The facility has direct access to the lake, a private platform, water equipment rental options and a children friendly pool. In Pajda Mazur you cannot get bored – workshops and animation for children, campfires, barbecues and parties with music are organised in season. The camping offers electricity and water mains , modern spacious bathrooms with warm water 24/7, toilets, dish washing and washing machine equipment.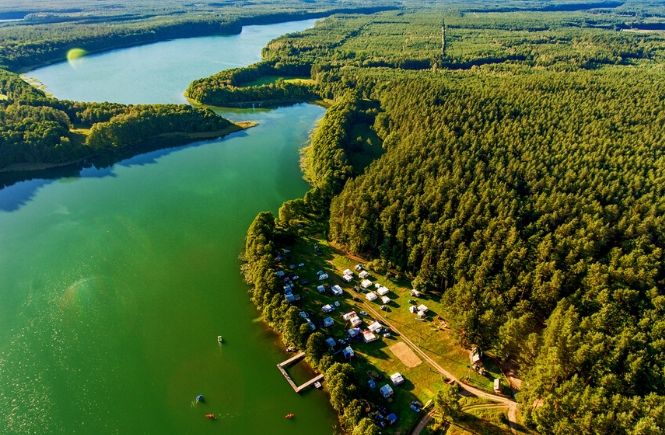 Camping Dłużek
Camping Dłużek is located beside beautiful and clean Lake Dłużek surrounded by old Masurian forests. It is an ideal place for relaxing close to nature far away from the hustle and bustle of the city. Covering an area of 2hectares with special places for caravans, campers as well as tents is waiting for you. Here you can camp by the lake and forest. There is a beautiful beach with a pier, a platform for fishing and a playground for children. If you like active relaxation, there are bike, water equipment and fishing boat rental facilities. Moreover, kayak trips are organized too. There is also a shop with a mini bar, a party shed with a fire place, a water inlet, a smokehouse, a special place for campfires and well -equipped bathroom with toilets, showers and dish -washing area.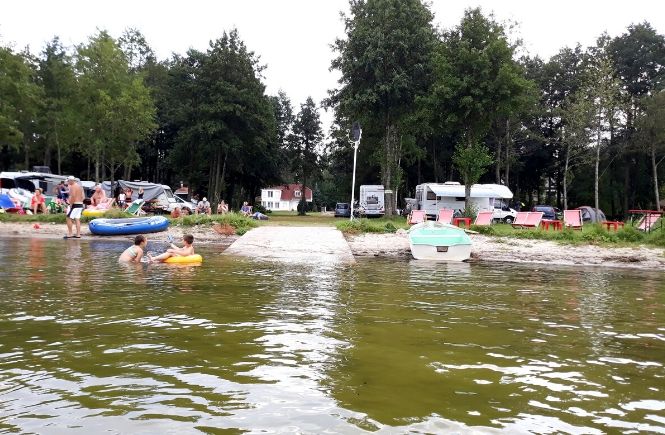 Camping Rydzewo
Camping Rydzewo is situated in the beautiful tourist village resort of Rydzewo not far away from Giżycko. The campsite is located on the shores of Lake Niegocin, on the trail of the Great Masurian Lakes. A shallow lake decent creates a natural bathing place with a sandy beach where you can admire a picturesque view of Giżycko and the Ekomarina port.
In the bay of Wygryny
A green area between resort buildings and the lake was dedicated to a camping area which offers electricity and water mains, bathrooms ,toilets, showers, washing machines and an unsupervised beach. There is a big wooden summerhouse with a fireplace and barbecue beside the lake so you can spend your evenings outdoors sitting at the campfire.
Camping 61
This campsite is located close to the centre of Elblag beside the river but, that does not take from the peace and quiet. Thanks to partial roofing you can find a comfortable place for yourself or you can pitch your tent as well. Sleeping in a tent does not have to be uncomfortable- you can use a cosy bathroom, electricity mains, a fully- equipped kitchen and washing machine. In your free time you can rent a bike or a water boat, go fishing, have a barbecue, play ping pong or volleyball and the youngest can have fun in the playground.
By Kamila Górecka Kirwiel