Reszel is famous for its ideally preserved Medieval urban layout, which is quite surprising for this region which has survived the destructive force of two World Wars. It is pleasure to walk through the old streets and relax in a cafe or the milk bar located near the charming town houses. Reszel reminds one of the Italian town Orvieto and maybe that was the reason why Reszel, 14 years ago, as the first town in Poland took on the idea of 'Cittaslow'.
The Warmia Bishops wooden castle was built around 1241 and later a brick castle was built between 1350-1401. Barbara Zdun, a shepherdess and a mother of 4 children, was accused of putting the castle on fire, during the night of 16/17 September 1807, by practising black magic. It was believed that it had been done in revenge for an unfulfilled love for a 20 year old man. Barbara was jailed and tortured for 4 years and finally, on the 21st of August 1811 she was burnt at the stake as a witch. Today you can visit the torture chamber with 50 exhibits such as: a witch's chair, an iron maiden, Judas cradle and water torture. You can visit the castle from 9:00 to 20:00. (www.zamek-reszel.com). The castle dungeon where Zdun, according to the legend, was jailed, is a reminder of those times and events . The execution took place on Hangman's Hill near the road from Reszel to Korsze and today a cross stands on the hill . It is believed to be the last burning at the stake in Europe. And at the same time, Reszel was probably set on fire by Polish soldiers in Napoleon's Army.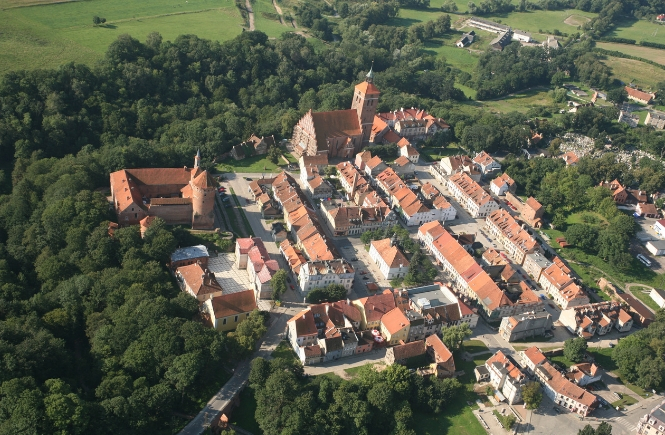 There are more interesting monuments in Reszel (www.reszel.pl). You can admire, from 9:00-17:00 daily, a beautiful panorama on the town and neighboring areas from the 52-metre high tower of St. Peter and Paul's church built in 1348 and ,there also is the reconstruction of the historic vicarage, where Ignacy Krasicki's brother was host.
Reszel also carefully and lovingly cultivates culinary traditions. In the Castle Restaurant, 'Restauracja Zamkowa' you can get a whole baked zander in almonds and lamb dumplings. In the Knights' Restaurant in the square, 'Restauracja Rycerska' you can sample ribs and traditional Polish soup made from fermented bread or rye flour. In the Bakery Jan and Dariusz Trzczak bread is hand-made and the dough is kept in special wicker baskets to be later on baked in the pre-war tiled-oven. Młynomag near Reszel which was built in 1370, www.mlynomag.pl, is a mill where flour is produced only from wheat and rye from the Varmia and Masuria region.
The Pilgrim Route from Reszel to Święta Lipka is 6 km long and leads to the Sanctuary of the Virgin Mary, popular with pilgrims as early as in the XV century. At present the route is lined with lime trees and baroque chapels built between 1733-1735.
If you choose to stay at the castle, you will see interesting room interiors. There are two kinds of rooms, ones with mezzanines and ones furnished with unique furniture made by the local sculptor Bolesław Marshall. In the castle there is the Modern Art Gallery which is a part of the Museum of Varmia and Masuria. More adventurous visitors can try climbing the castle walls with the consent of the owner or if you don't fancy that, you can try your hand at looking for hidden treasure in the medieval dungeons.
Bisztynek, located 19 km from Reszel, is known as 'the forgotten town of Varmia'. It suits the idea of Cittaslow ideally since it is a quiet and peaceful place. It is also the smallest Warmian town. The Holiest Blood of Jesus Christ Sanctuary – one of the biggest churches in Varmia, which is quite surprising in such a small town as Bisztynek. It is not only a place of worship but also a miraculous event is said to have taken place here when a priest celebrating the Holy Mass in the presence of bishop doubted that Christ was truly present in the host after transubstantiation. Then suddenly, he saw drops of falling blood and, the corporal on which the drops of Christ blood fell onto was sent to Rome and has never come back to Bisztynek yet.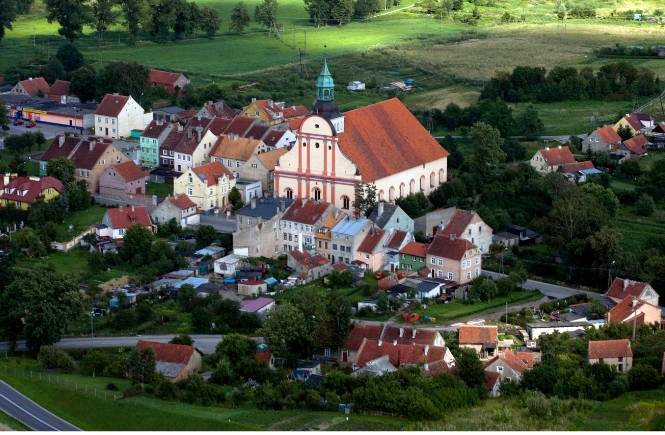 There is also the Devil's Stone which is 28m in circumference , 8m in length and 3,2 m in height. It is believed that it was brought from Africa by the Devil in person. (www.bisztynek.pl). There is a statue of Henryk Sienkiewicz that was unveiled on the 1st of September 1929 as a monument to the victims of World War I with 169 surnames of people from Bisztynek who did not survive the war.
Winter swimming is a popular winter activity in Bisztynek and the swimming club 'Przerębel' (check it out on Facebook) which was established in 2004 has over 100 members and, it is the only club in Poland for pond winter swimming! If you want to take part, Winter swimming takes place every Sunday within a glacially-formed landscape that is ideal for winter tourism These two very different towns present the diverse beauty and variety of Varmia very well.
Feel invited to visit!
By Stanisław Harajda