Members of The Network of Culinary Heritage 'Warmia, Mazury Powiśle' provide you with numerous tasting sensations. You can sample dishes and products and participate in events promoting natural, local food.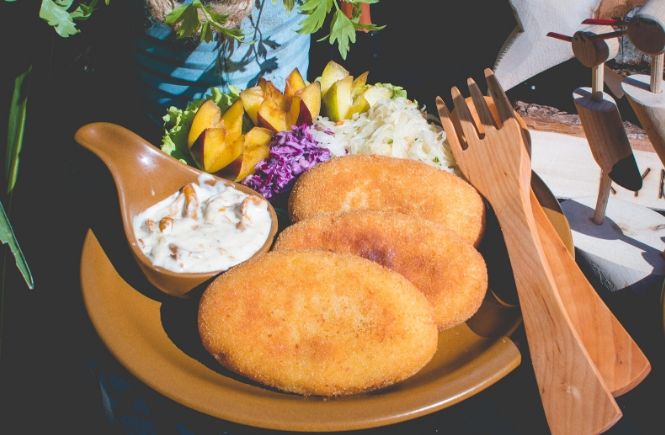 The region is famous for its richness of taste and original dishes prepared on the basis of natural ingredients. Local dishes and drinks including different kinds of mead and craft beers can be found in several restaurants and guesthouses. Numerous recipes that are highly appreciated are ingrained in the local culinary history of Warmia, Masuria and Powiśle belonging to different cultures, nations and religions and have been on the menus for ages. Old Polish, German, Warmian, Masurian, Lithuanian, Ukrainian and Russian cuisine is typical for the region. Nowadays, such products can be bought directly from local producers, in some shops and restaurants as well as at traditional markets.
The region in the culinary network
Warmia and Masuria was the first region in Poland that joined The European Network of Regional Culinary Heritage in 2005. It is an organization that promotes food made in a non-industrial and environmentally friendly way using natural and local products. It fits into the idea of slow life which is thought to be a counterweight to fast food and industrial food culture.
Nowadays, The Network of Culinary Heritage ' Warmia, Mazury Powiśle' is the biggest regional organisation in Poland and one of the biggest in Europe. Family farms, food producers and processors, restaurants, inns and guesthouses that cultivate culinary regional traditions and promotes its heritage are members of the organisation. 139 members were in The Network of Culinary Heritage ' Warmia Mazury Powiśle' at the end of 2019. Products and restaurants with the unique network trademark guarantee proven quality.
Regional dishes are prepared according to traditional recipes based on herbs, forests fruits, game meat, fish and farm produce like potatoes, cabbage and grains. Over 30 products have been put on the Traditional Products List by the Ministry of Agriculture and Rural Development. Additionally, there are also other products made in Warmia, Masuria and Powiśle that make your stay in this particular region interesting from a culinary experience perspective.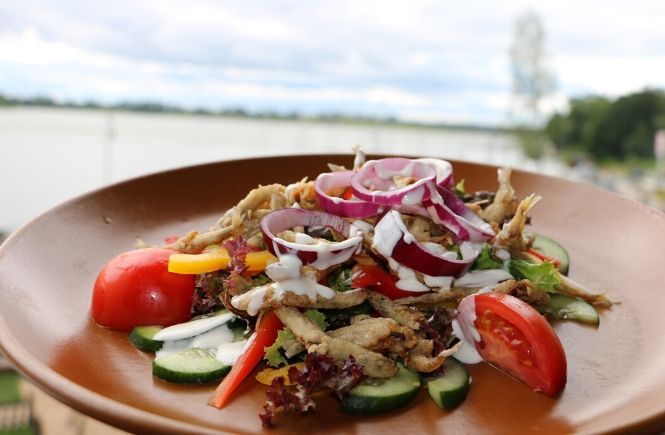 Festivals full of flavours
Good cuisine is popularised and promoted by numerous culinary festivals usually organised outdoors from spring to autumn. The festivals are popular with tourists as well as the locals. Most of the events are co-organised by the regional -government of Warmia-Masuria Voivodeship in events promoting food. During the festivals producers and restaurateurs compete in contests aimed at finding the best dishes and produce.
Plenty of gourmets can take part in the festivals dedicated to fish dishes (in Mikołajki), game (Lidzbark Warmiński), potatoes (Szczytno), turkey (Nowa Wieś near Iława), goose (Iława), noodles and pasta (Kąciki near Kurzętnik), herbs (Olsztynek), honey (Ełk) and milk (Olecko). There are also festivals that promote particular products or dishes such as: kartacz dumplings (Gołdap), traditional bread (Elbląg), dumplings (Biesowo), lard and gherkins (Ryn), cheese (Lidzbark Warmiński, Olsztyn).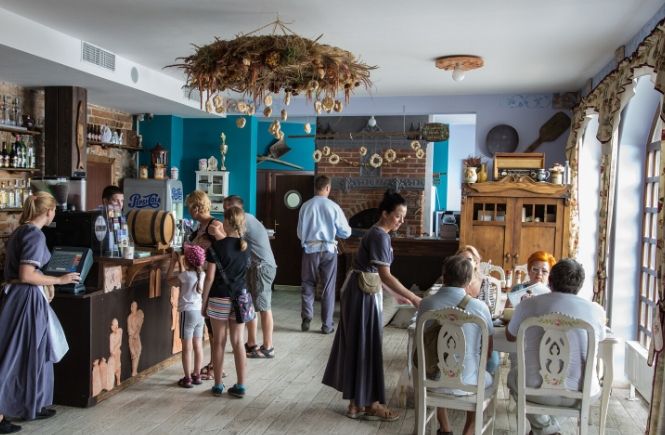 This year's contest will take place on the 16th of August during the Festival of Culinary Heritage of Warmia, Mazury and Powisle in Olsztyn. Popular personalities from culinary shows will make up the jury. Karol Okrasa one of Poland's best known celebrity chefs was a member of the jury last year. On stage he prepared traditional dishes such as: 'plińce z pomoćką' (cakes with sauce), smoked trout and marinated zander with honey mustard from pears.
The list of members of The Network of Culinary Heritage 'Warmia, Mazury Powiśle', where information about its activity and numerous original recipes for traditional and regional dishes can be found on:
by Rafał Śliwiak