James Bond from Biskupiec
In Biskupiec in the Creative Workhouse 'Sorboma' named after the Varmian bishop, Sorboma who granted Biskupiec its city rights long ago, you can see more than 2000 cameras in one place. Mr. Wiesław Borowski who presents the exhibition is a record holder as regards the number of cameras on display. In 2017 he was awarded a certificate that proves he owns the biggest number of cameras by the Guinness Record Office and Polish Record Office. The oldest camera dates back to 1884 and his Spy cameras are considered to be real rarity. Among his collection there is the famous Minox that was used by James Bond, feel invited to come and see!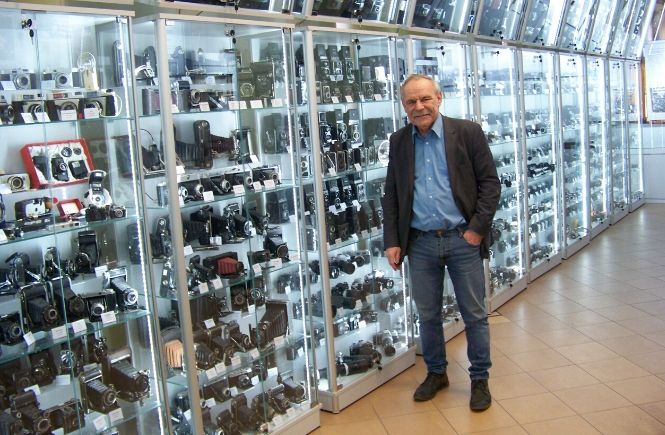 Creative Workhouse 'Sorboma', 11-300 Biskupiec, Wolności squere 6a, contact: +48 603 723 016
Exotic coffees from Morąg
A few years ago after completing a student apprenticeship at a coffee plantation in Hawaii -Ania and Kamil from Morąg decided to roast coffee in their home town Morąg. The seeds imported from Ethiopia, Kenya, Rwanda and Brazil are roasted in different ways and the created infusions are named after the places they come from. Coffee roaster can be visited as well. Every Wednesday and Saturday from 12:00-16:00 the owners show the place with the scent of coffee and invite you to get to know the taste of roasted coffee in the most pleasurable way, by sampling. If there is coffee production at the time of visiting -you can watch the process of roasting.
Every day you can try their coffee from Lani Coffee in Smolej Cafe in Łukta, Glendoria argrotourism and in Sour Tree agritourism. In Morąg you can taste it in Cafe&Bistro, a Tower with Taste (Wieża ze Smakiem) and in Kawa na Ławę cafe in Ostróda.
Price: from 27 PLN/ 250 g
More information on www.lanicoffee.pl
Masurian sauna on water
Is there anything more pleasurable than relaxation in a sauna on a cold day? If you add the marvellous views of the Great Masurian Lakes – a recipe for ideal relaxation is at hand .
It is Masuria where Monika and Paweł have a nice surprise for all lovers of saunas – a sauna modelled on a one from Finland…sailing on the lake. What else is special? A wood-burning stove, the heart of the place and access to picturesque landscapes and experience the gentle rocking on water are included in price!
You can get to the sauna in your own boat as the sauna is not tied to the shore and, it guarantees full intimacy. You can call the owners who provide transport to and from the shore. The owners of Masurian sauna invite guests throughout the year.
Price: from 50 PLN
More information on www.mazurskasauna.pl