Who has not dreamt of flying in their childhood? Whether flying a kite, following the white lines in the sky left by planes or observing birds , we all thought that taking off into the air would give us freedom and blow the wind in our hair. Dreams and imagination can change but the dream of flying never does. You can make your dream come true in Masuria ,thanks to flying para motors ,hot-air balloons and an ultra light 3 Xtrim plane. Tried and tested companies with many years of experience provide such a service. Flights usually take place from spring to late autumn and they are performed by pilots who are fully qualified as each form of flying is different.

A sightseeing flight by para -motor over the Land of a Thousand Lakes in addition to the unforgettable views, gives you a feeling of freedom and, it is a good chance to take photos and shoot a video film. There is nothing more beautiful than the pictures of numerous lakes and wonderful nature from the air. Hundreds, or even thousands of sails on the blue surface of the water shows why sailors love Masuria so much. Meandering rivers, colorful fields and people who look like ants from the air are certainly worth seeing. It is good to learn security guidelines presented before take-off by the pilot who accompanies you during the flight in order to indulge in enjoyment for yourself. The take-off and landing point is near Giżycko and the flying adventure can last from 10 to 30 minutes. The Para motor reaches a height of 300-500-metres and when a passenger gets used to the situation in which they are, the pilot can do wider turns to make the situation more exciting. It is good to shoot a video film with your favorite music in the background to have the possibility of re-living your experience again and again .The prices of para motor flight starts from 185 zl/ per person.

More information is available on www.motolotnie.mazury.info.pl

Seeing the beautiful Masurian landscapes is also possible from a the basket of a balloon. The best of first-class pilots Dariusz Brzozowski, who has an impressive number of flight-hours 3.000 in all, has been flying balloons professionally both in Poland and abroad for 20 years. The company owns 6 commercially flying balloons including the biggest balloon in Poland which can take up to 20 people. Flying in the balloon is a great adventure with the help of a reliable and well-qualified ground crew. Thanks to a joint effort on behalf of the crew's and passengers, preparing the balloon for take-off and packing equipment after the flight is carried out smoothly. It is a great outdoor activity so comfortable sport clothes are recommended. The temperature in the balloon is almost the same as on the ground before take-off. The advantage of flying in a balloon is the fact that you can get a 360 degree view, what gives you ideal conditions to sightsee and admire beautiful Masurian views from each side.
You can experience the ballooning adventure in two ways. One of them is a tied balloon -the flight is on a rope up to 30-metres long . The other one is a sightseeing flight which lasts 30-40 minutes or 60-70 minutes and it is time spent in the air.
The whole service includes everything from the preparation phase to welcoming back the ground with a glass of champagne, packing the equipment and transporting participants after the flight back to the take-off point. Everything lasts about 3-4 hours.
Prices start from 380 zl per person.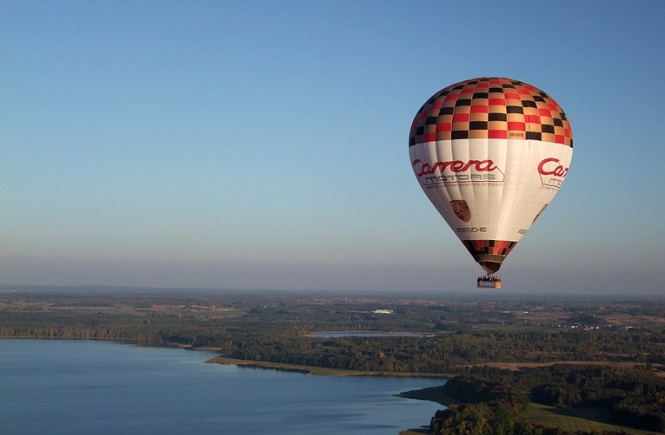 More information on www.ballooning.pl

People who just would like to observe balloons are invited to take part in a spectacular event like the Masurian Balloon Competitions in Ełk, which is being held for the tenth time. Numerous rival balloon groups from Poland and abroad, floating in the air thanks to LPG will participate in the competition in Ełk every July. During the event you can see ceremonial balloon flights over the town and environs and night shows as well.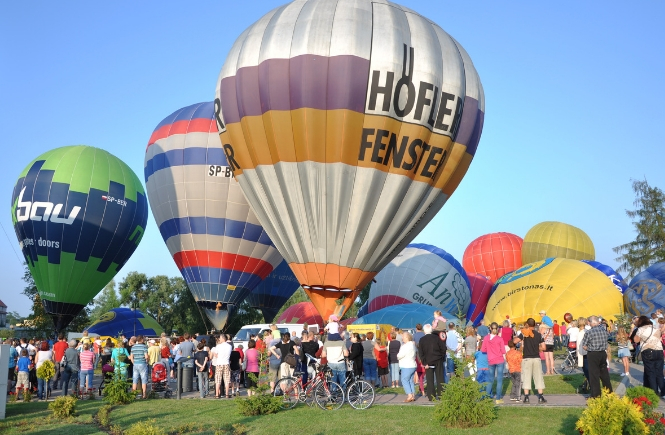 More information on www.mosir.elk.pl

A flight from historic Kętrzyn Wilamowo airport, which belonged to Hitler's quarters during World War II, in a safe, ultralight 3 Xtrim plane can be a unique form of adventure over the Land of the Great Masurian Lakes. Mazury Foto Air offer flights every day from 10:00-19:00 which costs 140 zl per person. If you are a flying enthusiast, you can do a course to get a piolet's licence or if you have a licence, you can hire a plane at Rent a Plane.
More information on www.lotniskoketrzyn.pl and www.investmazury.pl/osrodek-szkolenia-lotniczego.html

Fans of civil air shows will have every year in August a chance to participate in the Masuria Airshow. The event takes place annually amid the beautiful scenery of Lake Niegocin in Gizycko which is a natural background for spectators as it provides it with great viewing possibilities. The surface of the water helps you admire the shows from on board sailing vessels and it is also good for seaplanes landing. The best pilots-Polish and World champions, show groups and individual acrobats perform at the event. You can also admire not only the most modern planes but also historic machines. The whole event is hosted by Tadeusz Sznuk and live shows are transmitted on the internet.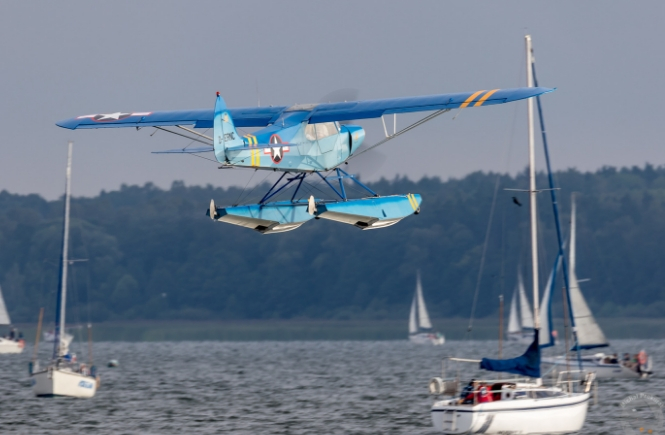 Feel invited – www.mazuryairshow.pl.

You never stop dreaming of flying !
By Justyna Szostek