The richness of the surrounding nature combined with the local chefs' experience and talent allow you the opportunity to try the unique tastes of Varmia and Masuria. Undoubtedly, the region can be called the culinary capital of Poland so let's see what the top chefs from the best regional restaurants recommend for winter.
Onion soup, hidden under puff pastry roasted in the oven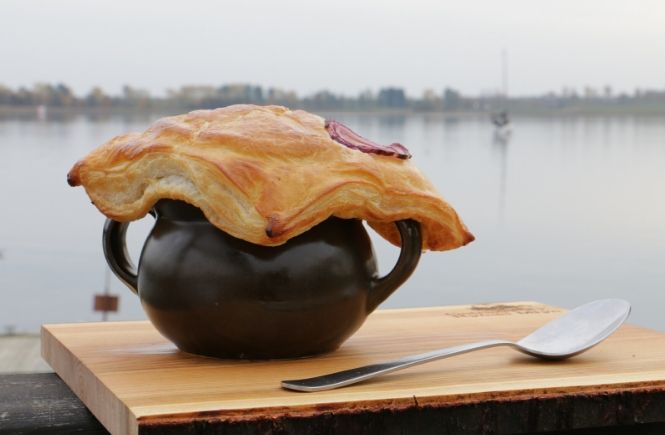 While composing meals in The Rynski Mill Inn which I base on old recipes found in historical sources as well as recipes shared by my friends which they learned from their grandmas. I use mainly regional products from Varmia and Masuria and thanks to that I have dishes which are not just appreciated by locals but, also the Juries of various national culinary competitions. When the days are cold I especially recommend hot, aromatic onion soup, spiced up with cheese and onion cooked in red wine.
Agnieszka Wesołowska, chef at the Ryński Mill Inn
Duck pastrami and apple chutney with a slight hint of coffee
Hotel Anders cuisine is based on healthy, branded and certified products provided by local suppliers like: cheese from Wójtowo, apples from Głotowo and honey from 'Masurian beekeeper'. In Hotel Anders we bake bread with fermented rye, use beech juice and jams from elder and buckthorn. Smoked meat comes from our own smokehouse, game from Taborski forest and fish from surrounding waters. In winter I especially recommend duck pastrami served with apple chutney and a slight hint of coffee and goose stew in kvass with baked vegetables and home brew sauce. Winter is time when we should remember about hot, aromatic and smoked tastes. Such dishes can be found on the a la carte menu in the Palace Restaurant in Hotel Anders.
Dariusz Struciński, chef at Hotel Anders
Zander in good company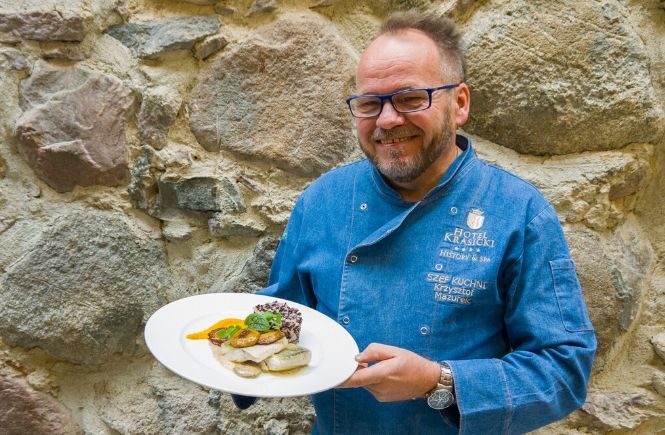 An ideal dish for cold days does not have to be greasy with pork scratchings so we recommend 'zander in good company'. You can find fish dishes on the menu in Alegoria restaurant for every season. Steamed zander brings all that is best out of this delicious fish. It is an exquisite dish with an autumn-winter motif when served with the aromatic taste of wild forest mushrooms, gentle pumpkin-carrot puree and wild rice.
Krzysztof Mazurek, chef at Hotel Krasicki
Calf cheeks in wine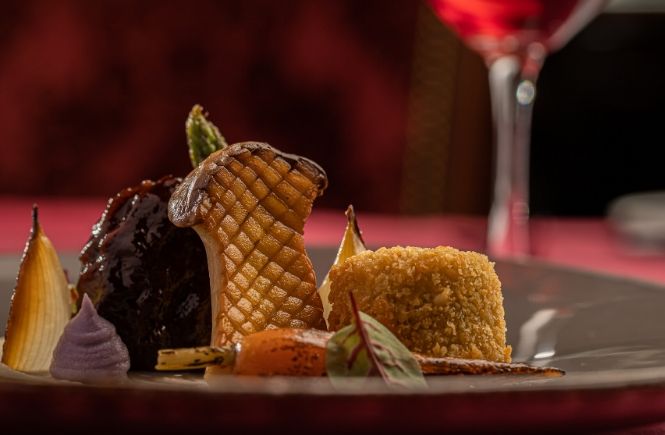 While creating dishes for the Refektarz restaurant I try to use the highest quality products and preserve unique recipes. Products from local suppliers guarantee top freshness, quality and the extraordinary flavor of the region. In winter I especially recommend calf cheeks in wine, celery puree, nicholas oyster mushrooms and olive oil in thyme . This dish ideally complements other options on the menu and, spices, herbs and leguminous vegetables make it a highly energetic and warming dish, just the thing for cold winter days.
Ireneusz Koniuszek, chef at Hotel Ryn Castle
Onion soup and duck confit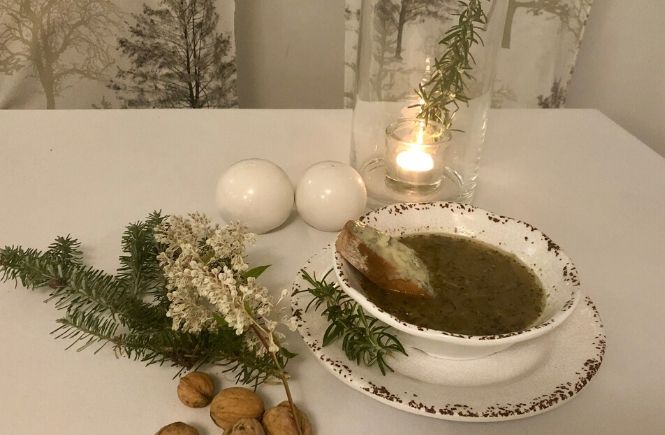 Onion soup boiled with thyme in French wine is a dish that I prepare as ideal food for winter. The soup is helpful in building body resistance to protect us from the cold. For the second course duck confit we can experience the added warming power of cherry sauce with a hint of chilly and rosemary. It has been known that cherries have a beneficial effect on the heart and peppers and rosemary are a good source of vitamin C.
Chef at Hotel Solar Palace SPA & Wellness
T-bone steak from deer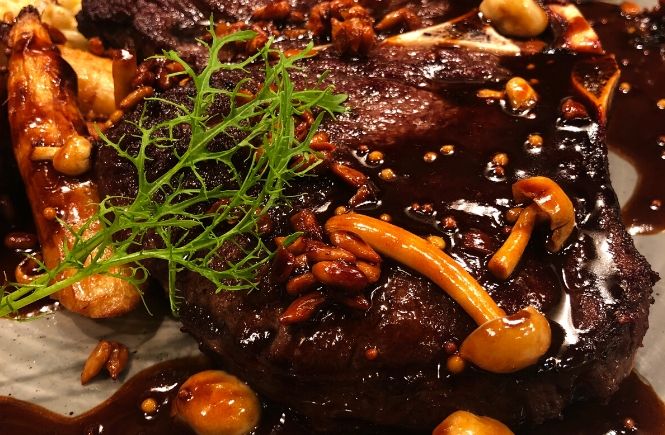 I recommend game not only because I come from Masuria and there is a lot of it but also because game is a very healthy food with little fat and free of any pesticides and antibiotics. Game is so good as animals eat only what is natural. Game has a beneficial effect on the heart and circulatory system. Nobody wants to put on weight in winter and everyone wants to have good resistance so I recommend my T-bone from deer served with pearl barley, baked colorful carrot, honey roasted sunflower and demi glace sauce with Shimeji mushrooms.
Michał Soliwoda- deputy chef at Hotel Mikołajki on Bird Island
Beef tartar and cod steak
On our menu you can find dishes from game, fresh mushrooms from Masurian forests as well as fruit and vegetables from local farms. In autumn I recommend more calorific dishes and those with higher nutritional value for instance- beef tartar with marinated chanterelles and lovage mayonaisse or cod steak under quinoa served with sweet potato and chicken sauce.
Mariusz Cygan, chef at Hotel Natura Mazur Resort & Conference
Goose breast sous vide with kashotto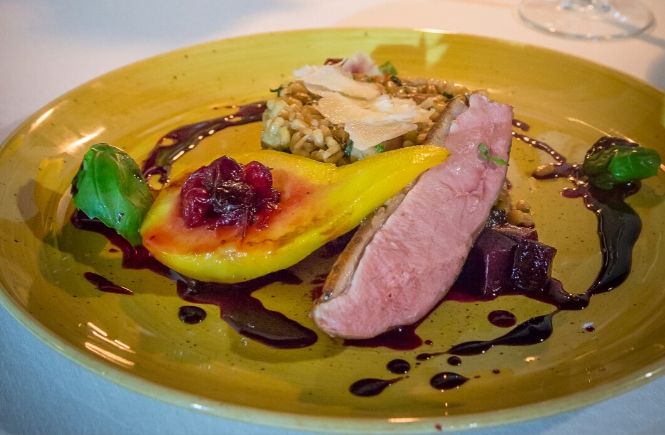 In autumn and winter we recommend goose breast sous vide with kashotto, caramelised beets, pear with cranberry and parmesan. The Polish farmed geese and savoured their delicious meat in 17th century. It is good to include goose meat in nutrition not only for its delicious taste but also because it is rich in protein, minerals, Vitamins A, E and the B-group. All that is served with goose – kashotto, beets, pear and cranberry is real healthty. Kashotto is healthy, filling and easily digestible. Beets improve your organism resistance what is really important in winter. The pear is one of the few fruits that contains iodine, a mineral that has beneficial effects on the functioning of the thyroid gland. Cranberry is a fruit that improves the digestive system and regulates blood pressure.
Olga Lompa, chef at Galiny Palace & Grange
Court cuisine on the autumn menu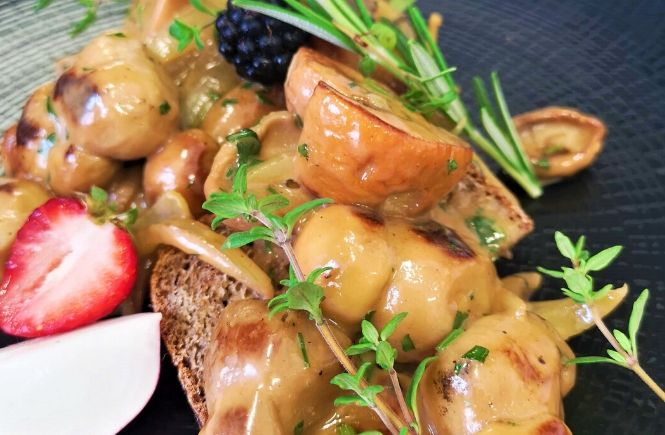 In autumn and winter we serve court cuisine based on fruit and vegetables which give the unique touch to the dishes. I use a lot of pumpkins, beets and mushrooms. Recently, we have proposed fried boletus, pumpkin cream with coconut milk and sweet potato crisps, pork tenderloin and boletus roulade with pumpkin mousse, glazed beets and unroasted buckwheat groats in plum sauce, and for dessert pumpkin cake with vanilla cream and ice cream. Nature gives us wonderful ideas to create sophisticated dishes in each season and I try to use them fully.
Marcin Zakrzewski, chef at Mortęgi Palace
Pork loin in red bean, cranberry and blueberries sauce
Despite sleepy and frosty winter I propose a dish that is amazingly aromatic, belly-filling and warming- pork loin in red bean, cranberry and blueberry sauce served with baked potatoes, vegetables, cheese and onion-boletus cream in puff pastry. I do not forget about the richness of vitamins and nutritional values to take care of the resistance system and energy of our guests. Onion-boletus cream is boiled in vegetable broth added to roasted bacon and white wine. This combination of warming ginger, aromatic cloves and crispy puff pastry complement the intensive flavors. Pork loin in honey with ginger and cinnamon is served on red bean, dried cranberry, blueberries marmalade, garlic and onion sauce. Baked potatoes with vegetables and cheese are served with the dish.
Adam Reluga, chef at Hotel Robert's Port
Pike dumplings 'dzyndzalki' and goose meat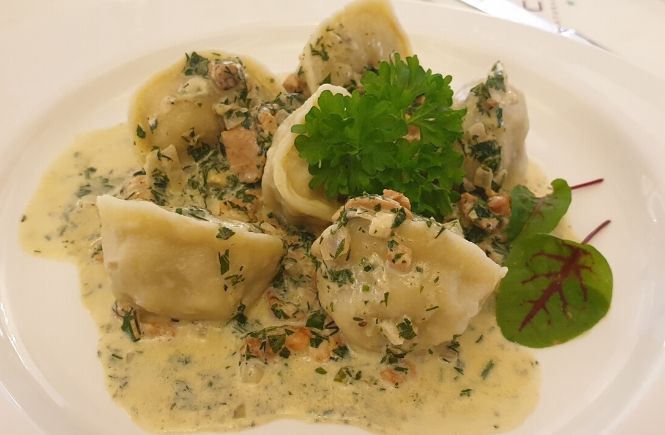 In the autumn months in Endorfina restaurant on the menu there is a special insert with dishes based on everything that the Gołdap regions offers. Gołdap is surrounded by wildernesses and lakes so we recommend pike dumplings 'dzyndzalki' with smoked bacon from wild boar. It is served with mellow chanterelles sauce. For dessert we recommend delicious baked apples with home-made cranberry jam and halva. In November we invite all lovers of goose meat to sample dishes from this incredible but undervalued meat. You can try dishes such as: goose broth, goose dumplings, goose breast sous vide with artichokes and pumpkin and a half goose from the hotel smokehouse. You must try geese lard with apple and pate from goose with home-made quince jam.
Dorota Gołubowicz – chef at Venus Hotel