The craft beer revolution, which means moving away from the mass-produced beers which dominate the market, is increasingly gaining ground. Very few people know that 1655 new beers came onto the market last year alone. It means 4 totally new beers every day on average. It is a great thing that reborn Varmia and Masuria breweries are taking part in this process. Our products have also been awarded top prizes in beer competitions and these are types of beer that belong to the world's top beverages and we are proud of it!
The Polish Craft Beer Competition organized by the Poznań Beer Expo is one of the most prestigious beer competitions in Poland. Breweries from all over the country compete in several categories. World craft beer representatives attend the event so it is gaining international fame. Polish Certified Judges PSPD and international judges BJCP choose the best examples of the different types of beers on offer. The choice is made on the basis of coded samples so the judges have no chance to learn the brewery's name until the official announcement of the results and our Varmia and Masuria breweries earned medals in their categories in last year's competition.
The Masurian Brewery in Ełk won 3 medals in a few categories. Ełk Dark Lager beer won the bronze medal in the 'dark lager' category. Masurian Ale Red beer won the bronze medal in the 'American & Brown ale' category and Masurian Impreal Oatmeal Stout earned the most valuable gold medal in the 'strong stout/porter' category.
The gold medalist is a unique sort of beer which is classified as strong due to its high level of alcohol and as a beer that it is difficult to brew. The beer extract of 18,5 BLG and alcohol of 8% won the hearts of the very demanding jury. It has an intensive taste and aroma of a wide range of flavor balance which has a smooth texture thanks to the added oats. Roasted malt adds a taste of dark and dried fruit, chocolate, coffee and the warming up effect of the alcohol shouldn't dominate the whole beer. Despite sensational heights, particular compounds must combine with each other in such a way to create a complex harmonious beer instead of a burning mixture. It is a challenge to create beer that after a long period of aging (about 10 months on average) could well hide its strength so the alcohol is almost undetectable but, the brewers in the Masurian Brewery in Ełk have managed to do just that.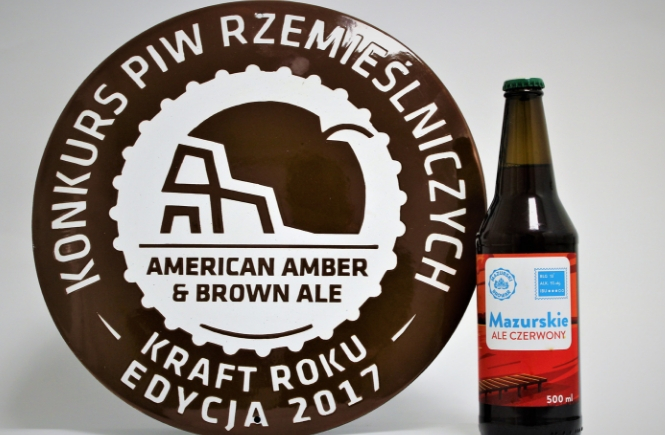 A Similar challenge was taken up by Ukiel Brewery in Olsztyn which was a surprise not only for the locals. The brewery started its production just before the competition and its beer Ukiel West Coast won the gold medal in the category 'west coast IPA' as a complete beginner in this area. The beer is characterized by an intensive and refreshing aroma of American hops which have a high concentration of citrus and tropical fruit aromas. Low malt and a sophisticated finish results in a wonderfully clear hoppy bitterness. Although, that beer has a medium alcoholic strength (6,4 %) it is well balanced and has become the flagship product of the little brewery in Olsztyn. The beer has been produced since its debut and retains its quality and disappears quickly from the shop shelves and the restaurants in the region.
Kormoran brewery with its beer 'Imperial Baltic Porter' (Imperialny Porter Bałtycki) has taken the world of beer by storm. This uncompromising beer had its debut in 2016 and it immediately appeared on the list of the World's 10 best beers. This unique beer is available once a year on 20th of January during International Baltic Porter Day and every year a long queue can be seen near the Kormoran brewery. Nowadays, the beer is produced in bigger amounts but it is still not sufficient to meet the demands of the market. This high quality beer is sold in sophisticated 375 ml bottles for a reasonable price of 25 PLN per bottle. Everything is packed in a nice cardboard box that emphasises the nobility of the drink. Is 25 PLN too much? It is worth mentioning that bottles of Imperium Prunum were auctioned for 150 AND 250PLN which is not a staggering amount in comparison with the world's best beers. What is Imperium Pronum like? It is a very dense, oily strong stout of intensive taste. It is characterized by a smoked note enriched by the flavor of sechna prunes which brings an additional taste and aroma sensation. This beer high strength beer of 11% alcohol and an extract of 26 BLG is well aged and should be sampled very slowly on cold winter evenings. You should try it and be proud of our Varmian Kormoran brewery.
Rich experience, a reborn beer culture and the high quality of beer in the Varmia and Masuria region encourage visitors to enjoy a new form of beer tourism that has a lot to offer. These are just some of the beers you can discover in the Land Of the Great Masurian Lakes so feel invited to come and see for yourself what's on offer here!!
By Artur Kamiński