Not everyone knows that they can get to Varmia and Masuria not only by car or train but also by plane thanks to Olsztyn-Masuria Airport situated in the southern part of Varmia-Masuria voivodeship, west of Szymany.

Easy to reach
If you want to get to Szymany Airport, you can get on the railcar Olsztyn Central Railway Station that will take you there within 50 minutes. The train stop is situated in the near vicinity of the airport terminal and the public transport timetable is well-coordinated with arrivals and departures. Local transport operators offer other means of transport as well. If you reach the airport by car, you can leave it in the monitored car park with 350 parking parking places located in the vicinity of the terminal where short-term as well as long-term parking in available.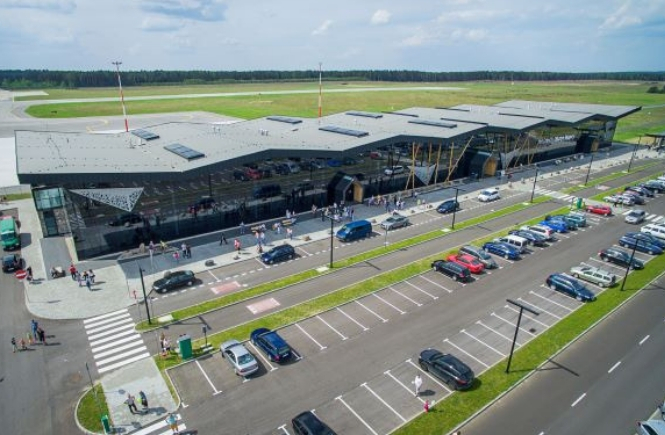 Modern infrastructure
Olsztyn-Masuria Airport is a category 4C airport which means that it is adapted to service aircrafts with wing spans up to 36 meters like- Boeing 737-800 and Airbus A321. The infrastructure and airport's status lets bigger aircrafts land in particular conditions. An asphaltic-concrete runway with a length of 2500 meters and a width of 45 meters is the main element of the infrastructure. The O1 runway is fully equipped which enables category I[CAT1] operations which are when you have very bad visibility. It also allows approaching and landing in accordance with flight rules at a height not lower than 60 meters and visibility not lower than 800 meters or a runway visual range not lower than 550 meters. Moreover, the runway is equipped with a line of modern sensors and devices that provide meteorological and technical information to the airport control towers. Olsztyn-Masuria airport offers aprons with a total area of 27 000 square meters, AVGAS 100LL and JET A-1 fuel and the full service of aircraft ground handling for passenger planes. At the airport there is also the Airport Fire and Rescue Service that provides 5 categories of airport fire protection (ICAO) which can be increased to category 7 upon request. There are other services such as: air traffic services, meteorological services and customs and border guards.

Where will we fly?
Nowadays, 3 airlines such as: Wizzair, Ryanair and PLL LOT operate from the airport. The network of connections is changing and developing continually. The network of connections now includes cities like: Kraków, Dortmund, Burgas, Lwów, London Luton and London Stansted. Current flight schedule is available on: www.mazuryairport.pl.