Numerous lakes connected by canals and meandering rivers are the greatest asset of Varmia and Masuria. The region is considered to be a paradise for fans of sailing. However, there are different possibilities to use the numerous lakes and waterways. Especially for you, we have prepared an overview of lakes and rivers in which everyone will find something for themselves depending on their preferences and capabilities.
People powered
Canoeing is one of the most popular and available forms of water tourism. In Varmia and Masuria there are many waterways such as: Krutynia, Drwęca, Łyna, Marózka, Omulew, Sapina, Pisa and Wel. The most popular canoe route in Masuria and at the same time one of the most attractive water routes in Poland – the Krutynia river flows through several lakes connected by short rivers. The route is 100 km long. You can sail alone or join on of the numerous canoe trips during which the organisers will take care of all your needs. If you do not want to set off on a longer trip, you can always rent a canoe and sail in peace and quiet on the lake in the surroundings of the hotel or hostel where you are staying. Almost every facility located on the lake shores have their own small water equipment rental options. You may find pedal boats and rowing boats , which are usually very modern and easy to steer. Pedal and rowing boats give you a chance to have close contact with wild nature and explore places which are not possible to reach by land. Do you know how many deserted island are waiting to be discovered!

With diesel or electric engine
Motorboats are only permitted outside of the 'No Noise Zones'. It is an ideal choice for those who like a faster pace and maximum comfort when travelling. It is worth remembering that you need a special licence to use a motorboat with a powerful engine or to ride a water scooter. Water skiing behind a motorboat is another option. It is good fun and you do not need any permission but just a bit of courage. You can truly experience pleasure from water skiing when you use special ski jumping ramps ,the longest water ski jump can be found in Ostróda.
Apart from technical knowledge and respect for all regulations applicable to water, you should also follow general cultural norms not to disturb other people's relaxation and not to pose a risk to smaller and slower watercraft. It is a common complaint that motorboats come too close to people swimming and threaten their safety and cause waves which rock small boats and canoes.
If you do not have a sailing licence, you can always rent a boat with a weaker engine or an electric engine. Recently, dinghys with hard bottoms have become more popular, they are used by families as well as anglers. Such dinghy cost a few thousand zloty and can be kept in the boot of your car and its inflating and unfolding takes little time. A small diesel or electric engine can be installed on the dinghy and with such an engine, you can sail on the lakes in the No Noise Zone. Another option is sailing on a board or on a houseboat with an electric engine. You do not have to have any licence provided that engine power does not exceed 75 kW and the hull length does not exceed 13m and its maximum speed is limited to 15 km/h sailing boards are used for short relaxing trips on flat water. You can sunbathe, read, swim or relax on them. Houseboats are bigger watercrafts where you can stay longer or even spend your whole holiday. They are usually equipped with facilities to sleep, relax, cook and wash. The biggest and the most comfortable ones are real sailing homes. They can be moored permanently close to the bank or you can sail to your heart's content.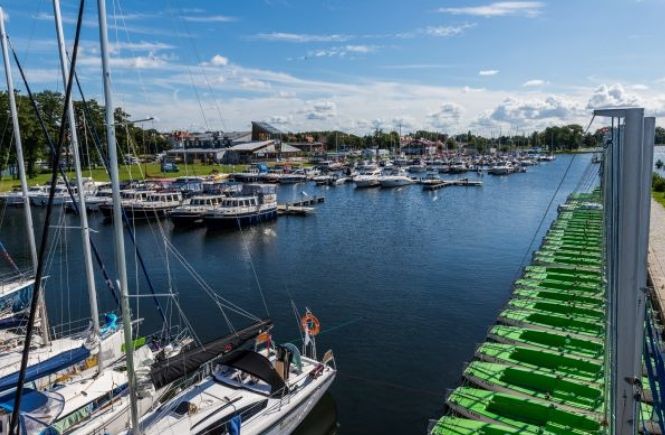 Regardless of what you choose, you should always remember that even when you use equipment that does not need a licence, you must know the basic rules of sailing, take care of safety and check the weather forecast carefully not to put your and other people's lives at risk. If you are interested in bigger watercrafts with a stronger engine and you need to become a licence-holder, you can participate in a weekend course that ends with final exams which are organised by many Masurian and Varmian facilities during the sailing season.
Sailing far away
White sails sailing majestically on the golden surface of the lake is a typical image of Varmia and Masuria. Sailing enthusiasts love these waters as it is really a dream sailing destination. While sailing you can move through lakes in silence, reach the most remote, unspoilt places and camp in secluded bays. It is tempting, isn't it? However, sailing needs preparation  therefore you should have a licence or join an experienced team consisting of a properly qualified crew. In season you can rent a boat with a professional team as well.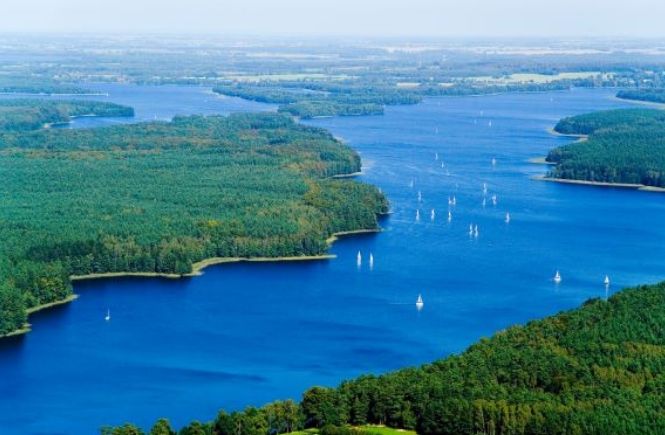 If you have the necessary documentation, you can rent a sailing boat almost everywhere. If you have your own boat, you will find  a place to launch it or even leave it for winter. If you are a real fan of sailing, we encourage you to take part in the many organised sailing courses. It will let you gain the necessary skills and thanks to that you will be able to explore the hidden corners of the Masurian lakes on your own.
Organized cruises
If you do not want to sail alone but you are tempted to explore Varmia and Masuria from the water , you can use the growing offer of options available. You can go on a cruise along the famous Elblag Canal where ships sail a part of the route across grass or set off on a short cruise on a particular lake. In each Masurian town you will find an operator who offers a passenger cruise. Remember to take something to drink and protect you from the sun and rain, you may not always have a chance to take shelter and there is not always  a possibility to buy drinks on all ships so come prepared and do not forget to take a camera, you may have an opportunity to see rare animal and bird species, whatever may come, you will surely have picturesque views of beautiful water and landscapes.
Everyone can fly
More adventurous tourist can try alternative activities when staying in Varmia and Masuria. With the proper wind conditions windsurfing and kitesurfing are one of the possibilities. Learning to sail or 'fly' is within most people's reach so most of us regardless of age can try it. Increasingly numerous schools are organizing individual and group lessons. If you start an adventure with windsurfing or kitesurfing, it is advisable to sign up for a professional course. On the course under the watchful eye of an instructor, you will learn the most important safety rules and how to use the equipment. These sports are not only for fit people so anybody can try them. It is important to learn good habits from the beginning with the support of an experienced instructor. For those of you who are interested, there are camps, and holidays which offer courses where you will be able to fully enjoy windsurfing and kitesurfing just after a few days of learning.
Regardless of where you sail, remember the rules, having all the right documentation and checking the weather forecast on specialist weather portals. Lakes can look peaceful and charming on a sunny day but it is just a sudden change of weather and they can turn into extremely dangerous places. Do not forget about proper behavior and good manners. Sailors like tourists on mountain trails usually greet and help each other if needed. Respect the natural environment and do not damage it by leaving rubbish and pouring waste into water. Remember that it is for our common good and we should leave it in good condition for future generations.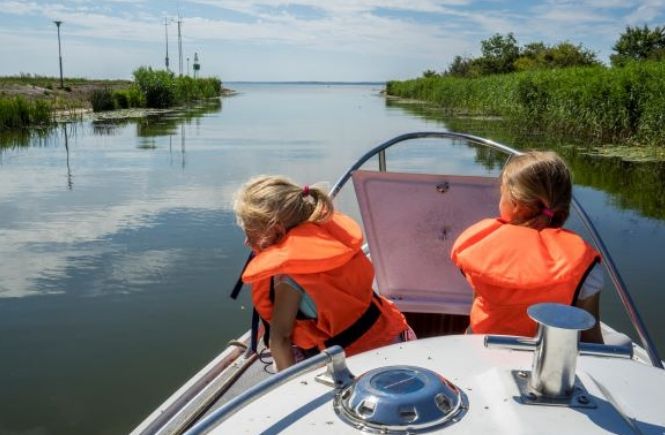 By Kamila Górecka Kirwiel