While looking at various facilities where to stay, we found places where proximity to nature is to the heart of the matter. Moreover, each facility has its own unique style.
ArtHouse Pelnik – a house with soul
In the picturesque village at Lake Isag there is a place that stands out and wins your heart . A guesthouse, opened 1,5 years ago, is designed with lovers of nature in mind and for people looking for some peace and quiet.
The guesthouse was built in a tranquil spot near a lake and forest. The person behind the idea did not want Arthouse to look like a typical recreational guesthouse so it is a special place with a unique design and vivid interior art. Inside the house there is: a glass ceiling, concrete architecture, a big sunny terrace and grassy space. The walls are adorned with paintings done by the owner of the house. Here you can relax lying on the coach in front of the open fire or on the hammock with your favourite book. The guesthouse is available all year for up to 8 people. You can go for long walks, ride a bike, pick mushroom or sunbathe on the local beach if the weather allows. In the evening you can relax around a campfire or party on the terrace. You will enjoy naps on the hammock and your children will enjoy the playground with a sandpit, slide, toy house and mini climbing wall.
Get away from it all at the Herbal Jug
A learning experience , the Herbal Jug has existed since 2015 and its main attribute is a rich educational choice in areas such as: herbs and a herb garden, pottery, handicrafts a lavender alley, a mini zoo and an agrotourist farmhouse decorated with a herbal atmosphere in mind.
Each room has its leading herbal motif and an embroidered name. In the rooms you can find hand embroidered pillows with lavender and cornflowers, oil paintings and paintings on glass, candles, wooden boxes, hangers, hangings, bunches of lavender, poppy flowers and linen. There are also wooden tablets with various beliefs and folk tales.
During your visit to the facility you can participate in different themed workshops. You can also learn how to make herbal soap, cotton dolls, fruit and vegetable encased in glass, herbal tea mixtures, and earthen and wicker wares. You will get to know all about the history of the humble potato, florist's secrets, decoupage and you can even learn how to milk a cow and make home-made butter. In the enclosure you can have a meal in the kitchen that resembles the kind of place that your grand mother probably cooked in. During your stay in the Herbal Jug there is one more major advantage, there are no tv sets in the rooms!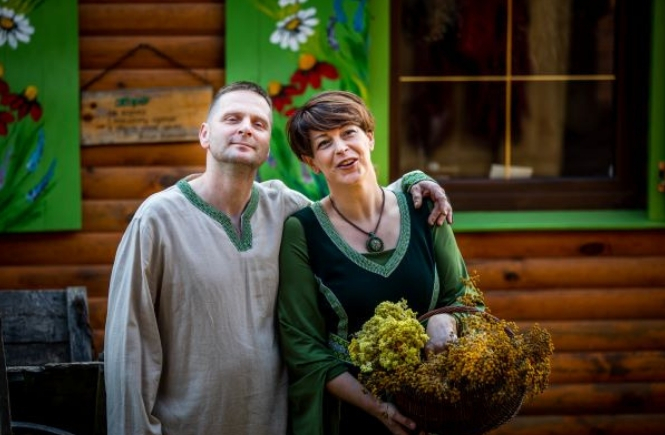 Pleasant charm and tasty food at the Goat Farm
Złotna is a little village near Morąg where Kasia and Grzegorz established a goat farm. The couple used to have an urban life, Grzegorz worked in a corporation and Kasia held workshops. Then they made a decision to come back to Grzegorz's home village and they bought a decaying farmhouse. After a few years of hard work Złotna Goat Farm has become an important place on the region's culinary map. Złota cheese has been awarded prizes in national festivals and the farm was awarded the Best Polish Ecological Farmhouse in 2016. Kasia and Grzegorz invite enthusiast of slow life, goat cheese and all people who want to get a taste of rural life and stay in a comfortable agrotourism farmhouse.
In the cosy shop ,you can buy goat products, drink coffee , eat a warm bruschette snack made with goat's cheese, dumplings and dessert. If you make an appointment in advance the hosts will tell you the secrets of making each goat cheese. You can always make an appointment to see the whole farmhouse and listen to stories about goats' habits and even go with goats to pasture. The hosts are sure that goats will win your hearts as they are sociable and intelligent animals.

Relax close to nature in Masuria Hotel & SPA
Masuria Hotel & SPA is a facility located directly near Lake Isąg. It is a facility where you can feel closeness to nature and the ideal slow life. So it is the perfect place for those who want to escape from the hustle and bustle of urban life and wish to relax close to mother nature.
The Hotel restaurant serves dishes based on regional, traditional recipes, natural products from local suppliers and from ecological cultivation of herbs, fruit and vegetables. You can try meat and fish prepared in a local smokehouse and in the Masurian Herbal Cafe you can drink herbal tea and mixture prepared on the basis of local natural ingredients.
In the hotel there is wellness centre with a pool, sauna and steam bath as well as a SPA with a wide choice of treatments. On the private beach there are comfortable deckchairs and an open Finish sauna with an incredible view of the lake. Close to the beach there is water sports rental equipment facility and Summer SPA. In the park surrounding the hotel there are hammocks and a playground. In summer you can watch films in an open -air cinema. A campfire is organized throughout the whole year and if you like, you can rent a bike and go on a sightseeing trip through the unspoilt nature of the area. If you are an enthusiast of mushroom picking, you should go for a walk to a local forest in autumn as it is a hot-spot for this activity if you like you can just go fishing. If those sound too relaxing for you, there are plenty of other ways to spend your time more actively.

By Kamila Górecka – Kirwiel