Mrągowo is a little Masurian town surrounded by green forests and blue lakes. It is well known in Poland and abroad for its festivals organised in the amphitheater on lake Czos. Festivals are not the only thing that Mrągowo is famous for since the town belongs to one of very few Masurian towns with an original Old Town in addition to numerous other tourist attractions in the vicinity. Mrągowo is truly for festivals and fun.

Several events such as: Masurian Cabaret Night, Country Picnic, Border Culture Festival and Masurian Opera Festival Belcanto take place in Mrągowo each year. Masurian Cabaret Night has been organised in the amphitheater since 1999. During the event the audience can attend shows of the biggest stars of the Polish cabaret scene and the best singers of popular music. Country Picnic attracts thousands of fans who change the appearance of the town for a few days. Western outfits, motorcycles, off-road vehicles and cars as well as horse-drawn vehicles are seen everywhere in this 'Wild West Town'. The unique atmosphere can be felt throughout the year if you visit the western theme park town called Mrongoville. During the Border Culture Festival the artistic past and traditions of Polish people who inhabited the former areas of Poland are presented. Polish folk bands, choirs and individual singers from Lithuania, Belarus, the Ukraine, Latvia and the Czech Republic appear on stage. Due to the numerous high-profile events, Mrągowo received a Certificate from the 'Varmia and Masuria Regional Tourist Organisation, 'Mrągowo Festival Town' in 2009 and 2011.
A unique Old Town
In contrast to other Masurian towns, Mrągowo virtually did not undergo any destruction in World War II and you can feel the real atmosphere of an original east Prussian town. The Landmark of Mrągowo is the historical old town hall which dates back to 1824 and it is the second oldest town hall in Masuria. In the town hall there is a branch of Varmia and Masuria Museum. After the war, there was a standstill of a horse-drawn carriage which was drawn by Michal Symonowicz-a repatriate from Vilnius.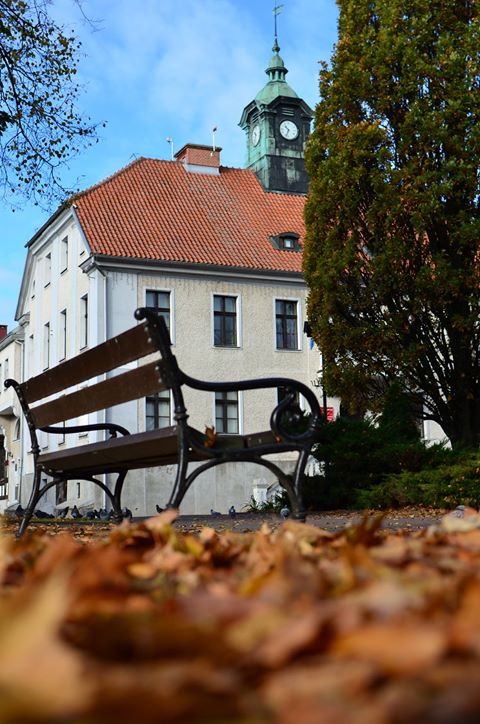 Next to the town hall there is the Bosnian guardhouse, where the Bosnian 9th regiment were stationed between 1770-1792, which is older than the town hall itself. Nowadays it is the Hall of Memory devoted to a German writer -Ernest Wiecher born in Piersławek near Piecki. Various other historic buildings in different architectural styles can be found along the main town streets such as Warszawska, Królewiecka and Roosevelt streets. Cobblestoned routes reflect the atmosphere of an old Masurian town creating a really unforgettable atmosphere. A historic building at Mały Rynek street is one of the oldest and best preserved buildings. There has been a pharmacy 'Pod Orłem'.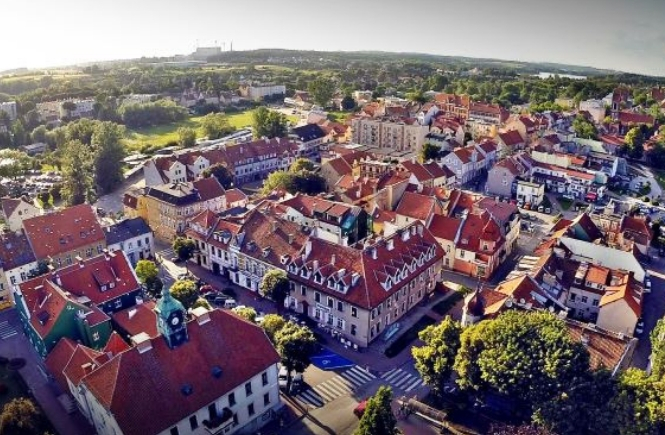 Numerous attractions in the town and surroundings
Mrągowo and its surroundings abound in ideal places for recreation and relaxation. Avenues, squares with flowers, an open-air art gallery of stone sculptures, parks and a promenade along Lake Czos – each of these places encourages you to go for a walk. It is worth stopping at the pier to observe waterfowl, boats on the lake and the amphitheatre. During the summer months, you can cool down and chill out in Lake Magistrackie, beside Mrągowo fountains on PCK and Wyzwolenia square, in Lotników park or on the beaches and at the Source of Love. Families with children can actively spend time in the mini marina – Ekomarina, or on football pitches 'Orlik', in the rope park close to Mrongoville and at several other playgrounds.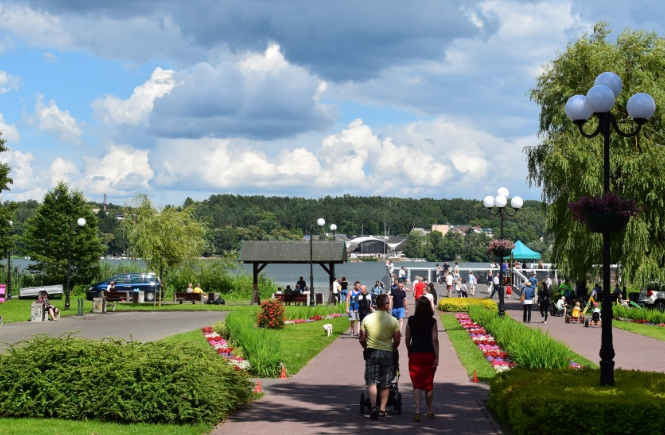 In winter skiing enthusiasts can go to Góra Czterech Wiatrów to have some fun in the snow. The Deer farm in Kosewo Górne is a good place to go for a walk among different kinds of deer grazing freely. In the neighborhood there is also a gothic church in Szestno built in the second half of 15th century and the ruins of Teutonic castle which are also worth seeing.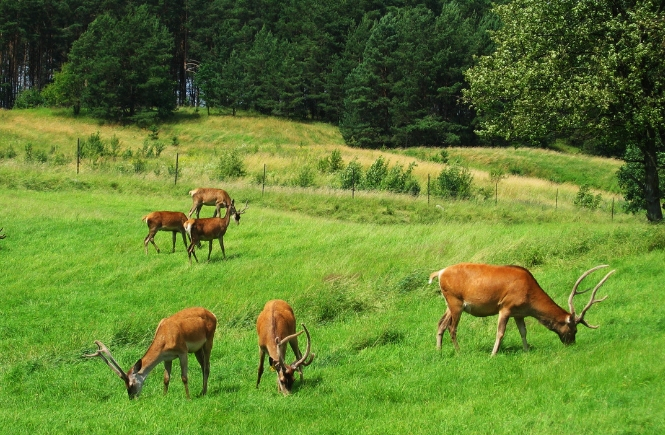 More information on:
www.mragowo.pl
www.it.mragowo.pl
FB/ImprezyMrągowo
By Kamila Górecka – Kirwiel
Main Events:
👉 Disco Polo Mega Festival – 21 June 2019
👉 Mrągowo Hip Hop Festiwal – 22 June 2019
👉 Mrągowo Days – 28-30 June 2019
👉 Mega Dance Show Festival – 29 June 2019
👉 21. Masurian Cabaret Night – 6 July 2019
👉 Polish Championship in mountain biking XCO / XCR – 19-21 July 2019
👉 4. Masurian Opera Festival Belcanto – 20 July 2019
👉 38. Country Picnic Mrągowo – 26-28 July 2019
👉 Roma Music and Dance Concert – 3 August 2019
👉 Masurian Entertainment Night – 2 August 2019
👉 25. Border Culture Festival – 9-11 August 2019
👉 Wedding Hits Festival – 16-17 August 2019
Local guide talks about Mrągowo's curiosities
The fact that Mrągowo was not damaged during World War II allows you to see at least three architectectoral styles in one place. It is a real chance for lovers of old buildings. Along the main town streets, Warszawska, Królewiecka and Roosevelta streets you can see the buildings in neo-gothic, art Nouveau and neoclassical styles. While walking along cobblestone streets, you should take a look at the facades which are really detailed. Pay special attention to the elements that can be rarely found in other Masurian towns such as 200 beautiful old balconies and historic prewar doors.
There has been Museum of Military Equipment in Mrągowo since 2010 with a rich collection of historic military vehicles. It is the only such  museum in north-eastern Poland. The museum was established by a local collector Sławomir Trzeciakiewicz who collected military vehicles for many years. At this moment the collection consists of 80 unique vehicles and the main part are vehicles which were used by the armies  of the Warsaw Pact countries. Here you can even have a chance to drive heavy military equipment including a T-55 tank.
Mrągowo is a place where many famous people were born and brought up. Wojciech Malajkat – a great actor of the Polish theatre scene comes back willingly to Mrągowo as a visitor as well as a media person. In 2013 in the framework of the document entitled 'On the trail of stars', more specifically in 10th episode, he talked about Mrągowo and how it has changed over the years.
Karol Jabłoński has also got local connections. He is a sailor who has had success in sea sailing, iceboating and match regattas. Jabloński is a multiple world and European champion. He is still a student and a current member of Baza Mrągowo club.
Several films such as: 'Kochajmy syrenki' (1966), 'Komisarz Blond i wszystko jasne '(2009), some scenes from the film 'Optymista' (2010) and the short film 'Kładka' (2013) were made in Mrągowo.
Those who want to find out more curiosities about the town I suggest you hire a local guide at the Tourist Information Office in Mrągowo.
Robert Wróbel – a local guide