The world is getting faster and faster, technologies are changing and many things are disappearing under the pressure of modern life. However, Cittaslow towns strive to preserve some of the past.

Let's start with Dobre Miasto – the ancient capital of Varmia today a pleasant place with friendly locals. There is a very interesting museum in the form of a whole street where old craftsmen's workshops such as: a cobbler, saddler, photograph shop, hairdresser's and bakery have been preserved and a lot of interesting exhibits are on view and one of the preserved buildings you can find materials relating to Napoleonic wars which has been part of the local story. (www.ckbdobremiasto.pl).
In another museum located nearby in the Stork's Fortified Tower, you can see old maps of Varmia Bishopric, town maps, photographs and photocopies of historic buildings, old documents. Painting, graphics and artistic fabric exhibitions are also held here during summer months.
The local' Minor Basilica of the Holy Saviour and All Saints' is a part of the Gothic collegiate complex built in XIV century. An excellent example of original, Gothic Architecture that is worth visiting. (www.dobremiasto.com.pl). And if you are feeling a little peckish after that nearby there is a family bakery 'Złoty Róg' where you can sample really good pastries, biscuits and coffee.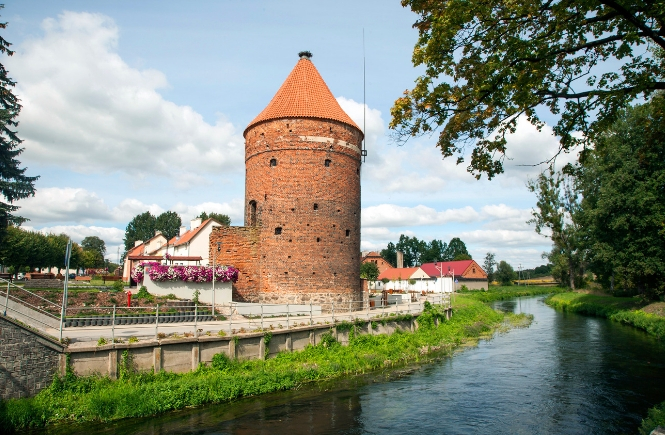 Jeziorany town is located 28 km east of Dobre Miasto. Those who want to see how a provincial Prussian town used to look should go there. It will take you back to XIX century thanks to its colourful, neoclassical townhouses. A tv serial entitled 'Stacyjka' was made in Jeziorany. There is also a Gothic church from the late XIV century called St. Bartłomiej's with a priceless knocker! While in town you also must go to Revita Gallery where you can see and buy a selection of applied, folk and modern art from Varmia, Masuria and borderland artists. It is a unique place and it can be followed on Facebook. Every Sunday in summer (1.06-30.09) there is an eco-market in front of the gallery. The gallery functions as a tourist information point as well. (www.revitawarmia.org).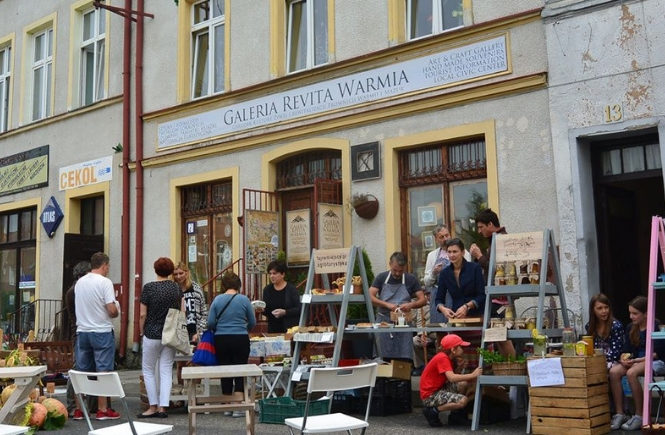 Biskupiec is cosy, compact little town situated 26 km south-east of Jeziorany. Its main attraction is a collection of 1400 cameras. Nowadays most folk have a camera in their phone but, the times of photographic plates, darkrooms, enlargers, dryers and the technique of developing photos are worth learning about. You can see cameras such as: Hasselblad, Rolleiflex and Leicas which are 130 years old and mini spy cameras too. The collection has been created over 40 years by one person – Wiesław Borowski and it is located in the House of Creative Work 'Sorboma'.
When you are in the tower of the Church of St. John the Baptist you can admire a view of the town and surroundings. There is also a gallery with current and historic photos of the town. Admission must be booked in advance. There is the' Church of blessed Karolina Kóźkówna' previously an evangelist church from XIX that is known as a Sanctuary of Our Lady in Fatima.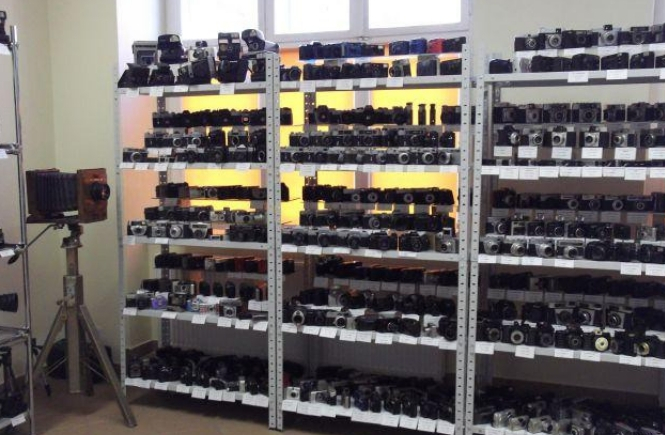 Another attraction that is located in Podwęgojski forest is an educational path. On the path you can find 16 wooden kilometre-long statues – ghosts from Varmia forest legends. Each statue has an information sign explaining its history. The Witch Hut is worth seeing as it is masterfully decorated.
Varmia monster is an open game where participants learn about characters from Varmia and Masuria folk tales and legends. (www.warminskiestraszydla.pl). In Węgoj there is a little, open-air Museum of Agricultural Machinery and if you want to take a break, you can relax and have a meal in 'Pod Dębami' Inn in Wilimy beside beautiful Lake Dadaj. (www.gosciniecpoddebem.pl).

On this trip there is something for everybody.
Stanisław Harajda