If you look at Varmia and Masuria as two separate regions, you can see that the first one is definitely less visited. It is obvious that it is a matter of taste and trend. Masuria is always trendy. The tendency to visit Varmia is perhaps about to start. It is worth setting new directions and creating new trends before others will do it.
In comparison to the more popular neighbor Masuria, Varmia is far less popular. The fewer tourists, the less impact on the natural environment which is almost untouched in this part of Poland. In Varmia there is a dominant post-glacial landscape with fewer ribbon lakes than in Masuria. Moreover, these lakes are smaller than the ones in Masuria.
Thanks to that Varmia just gains.
Varmian lakes have a special advantage. It is great alternative for divers who look for unforgettable impressions under the water and want to escape from the crowds.

In Olsztyn which is the biggest city in Varmia and the regional capital there are 16 lakes. You can dive mainly in two lakes. Lake Krzywe is the biggest and at the same time the most popular lake. The most popular diving place is located not far from Pirate Tawern at Bałtycka street.

The clarity of water in Lake Krzywe is as much as 10 m deep. The greatest depth is 43 m so you can practice technical diving as well. Under the water you can see sunken boats, yachts, small cruise ships, tracks and platforms for exercises. Thanks to them diving is not boring. Particular objects are marked by lines and maps and underwater attractions can be found in every diving spot in Olsztyn.
Lake Tyrsko is the second most popular lake with a depth of more than 30 m but with less clarity.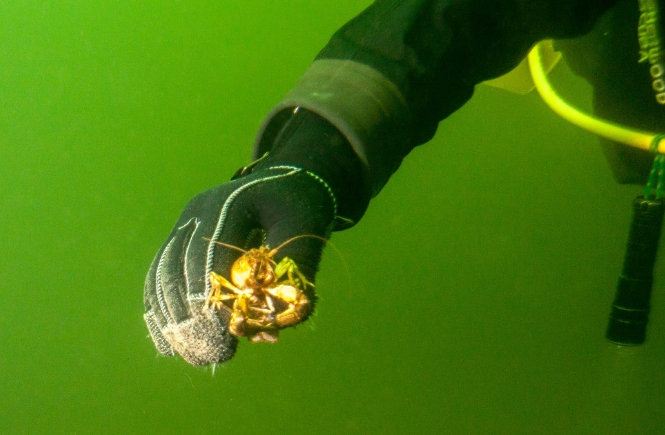 You can dive in Olsztyn throughout the whole year but many divers are used to colder water and wait for winter to dive under the ice. Maybe you will not see many fish but the clarity is amazing and air bubbles create the most beautiful patterns under the ice.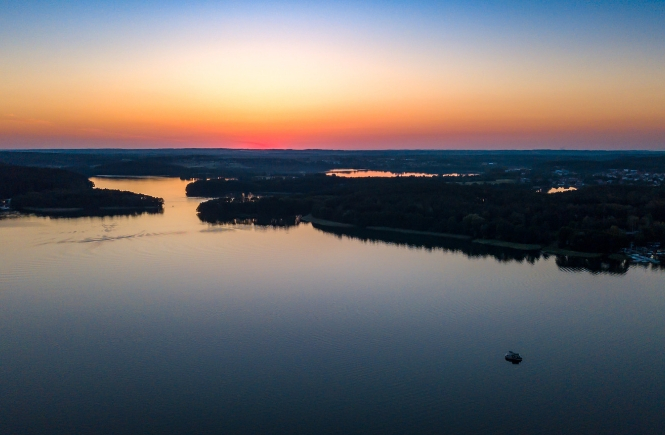 There is no diving without good diving bases where you can get permission, rent equipment and charge bottles with air and mixtures. The Academic Divers Club 'SKORPENA' situated in Kortowo: www.skorpena.pl is the oldest diving club.
There are other recommended clubs like – Aquadiver: https://www.aquadiver.pl located at 6 Żeglarska street. There are also Crocodiles –Krokodyle: www.krokodyle.com.pl with a base in the centre at 5 Dąbrowszczaków street and the Varmian Diving Centre at 1a Toruńska street: www.nurkowanie-kolakowski.pl.

Lake Wuksniki situated in the protected area of Natura 2000 is another popular and eagerly visited place in Varmia. Its depth is 67 m so it is claimed to be one of the deepest lakes in Poland.

An advantage of diving in Varmia is the location and surroundings. You can easily get to Jeziorany municipality and Jonkowo where you can find numerous places to stay and ideal for weekend or week chill outs.
In Ględy you can choose Glendoria or Camp SPA at Glendoria: www.glendoria.pl, which is believed to be one of the best places of this type in Europe.
Not far away you will find sweet Moniówka with delicious cuisine in Nowe Kawkowo: www.moniowka.pl and the Sour Tree in Włodowo: www.kwasnejablko.pl. There are numerous beautiful settlements and idyllic guesthouses in the neighborhood which encourages you to combine a passion for diving with relaxation in a charming place in Varmia. Each settlement also recommends different places so if you arrive in this wonderful land you can be sure that you will see more interesting places than you expect.
If you want to feel more emotions combined with diving in Varmia and other interesting places in the region, go to the web site: www.szalonewalizki.pl
By and photo: Jarek Kowalski