I have lived and worked in Varmia and Masuria all my life. In my job I meet a lot of new people from Poland and abroad. They often ask me the question 'Justyna, where can I get good fish in your area?' I add the adjective ' healthy' 'as quality not quantity is important so here I want to share with you some places where you can try really good, local fish dishes .
Obviously, the best place to start looking is in restaurants where fish is the main dish served in different ways and recipes. Local Fish farms that guarantee freshness have existed for many years so they are experienced and good at what they do.
In Szwaderki near Olsztyn in the immediate proximity to the ponds there is a Fish Bar where You can buy and eat-in fried fish including delicious trout, smoked fish and marinated fish. The Fish Bar is small in size sometimes crowded but, it is its charm and quality that is worthgoing to and waiting for.

More information: www.szwaderki.pl

Not far away from Szczytno there is a fish farm with a fish restaurant called 'Młyński Staw' which offers dishes based on pike, pike-perch, whitefish and other fish belonging to the carp family.

More information on Młyński Staw's Facebook fanpage

In Mikołajki there is a place called 'Restaurant on the water' that was opened 2 years ago and also cooperates closely with a local fish farm and It serves meat dishes and traditional pizza from a wood-burning oven as well as fish. Right beside the restaurant sailors can moor their boats , have something to eat and take in a view on the town. Nearby you can also buy freshly smoked fish to take home with you.

More information:
www.ryby-mikolajki.pl and www.restauracjanawodzie.pl

Special fishery not only offers possibility of going fishing but also to relax in cosy agro tourism rooms. The fishery 'Specjalne Zezuj' is located between Olsztyn and Olsztynek near the upper source of the River Pasłęka and Miła Dolina close to Miłakowo.

In the fishery 'Zezuj' you can find fish such as: carp, pike, tench, catfish, sturgeon, roach, bream and trout. Guests can use covered platforms with barbecue facilities. There is the possibility to rent fishing tackle and an umbrella and you can try your own luck and If you are with the kids you won't have to worry about them being bored as there is a playground with a sandpit and swings to keep them busy.
In Miła Dolina [Nice Valley] near this agro – tourist facility and fishery, there is animal-friendly ecologic enclosure which has beautiful fallow deer.

More information on this :
Zezuj –www.zezuj.pl
Miła Dolina – www.miladolina.pl

Personally, I like fish soup and often try it in different places in Varmia and Masuria. I do personal rating entitled 'Which fish soup is the best'. However, I know that everyone doesn't have the same taste as me so I will leave it up to yourself to sample the suggestions that I have offered and you can decide for yourself what your personal favourite is. Check out a fish place near you in one of 40 options.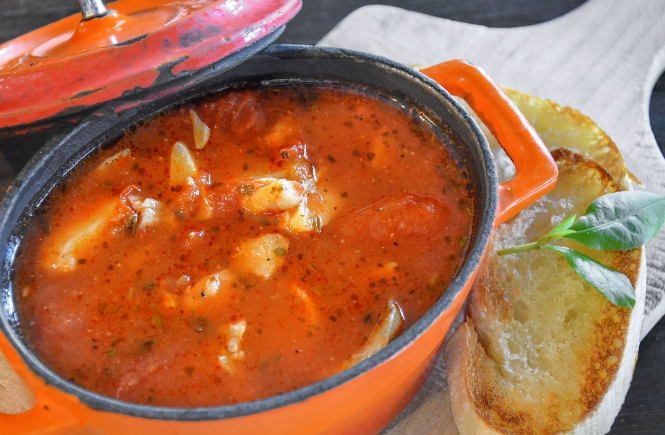 By Justyna Szostek