An interview with Krystian Strużyński from the Varmia Thermae.
Although most people like warmth, only a few people are aware of its beneficial properties. The Sauna, which is little known in Poland as a type of therapy and relaxation, is a way of therapeutic use of high temperatures. However, there are some places in Poland where you can learn the secrets of the sauna and take advantage of its beneficial effects. Unfortunately, not everyone knows how to prepare themselves for a visit to a sauna and when and how to use it properly. Krystian Strużyński, a sauna master from Varmia Thermae in Lidzbark Warminski will answer your questions.
Who is a sauna master?
Although, a stove and wooden benches are believed to be the heart of sauna, a qualified sauna master is believed to be its soul. During each ceremony the sauna master helps people acclimatize -he chooses the proper temperature, achieves the desired humidity and choses the aromatic oils that are put onto the stove. The sauna master uses different types of scents such as: pine, citrus, fresh herbs and spices.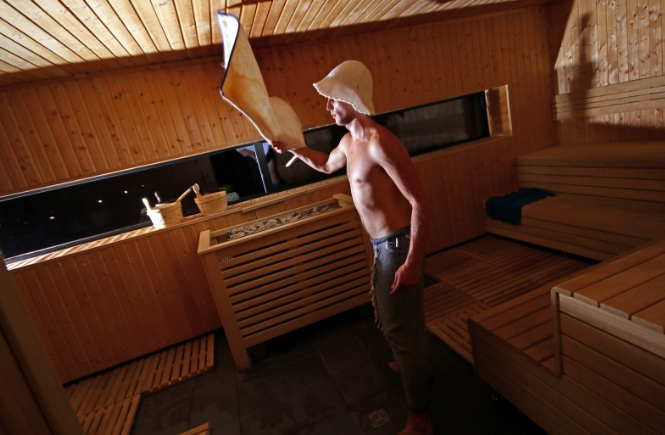 How a sauna affects our health?
A sauna is not only a place for relaxing but, it is also a type of health therapy. First of all, it hardens the body, increases immunity to infections, improves flexibility of fibrous tissue, articular capsules and ligaments. therefore, a sauna improves blood circulation and increases muscle strength. Thanks to various essential oils used in a sauna our respiratory system is improved. There are a lot of advantages and the desired changes in your organism last for a week that is why it is good to go to sauna once a week. In Varmia Thermae there are: Steam saunas (the gentles one recommended for beginners), Finnish saunas (with the highest temperature of 110 degrees and low humidity) and a wet sauna (recommended for too oily skin and seborrhea).
Who should and should not use a sauna? How should one prepare for it?
Firstly, it is a preventative method dedicated to healthy people. Before you go to a sauna, you are to learn about constraints. If you suffer from chronic disease, consult your doctor first. You cannot go to a sauna if you have an infection. Obviously, high temperatures increases the body temperature and with sweat you get rid of toxins but weakness of the body may cause more damage than benefit. You should avoid a sauna in the case of cancer, several skin disorders and problems with the circulatory system. A sauna is not a place for pregnant women as well as breastfeeding mothers. A sauna can sometimes be a valuable supplement to basic therapy. When you train too much, it helps you regenerate the muscles. It also helps reduce stress –after a sauna you sleep like a baby. Warming-up also helps produce endorphins.
A lot of people consider a sauna therapy but, where is the border line between preventive healthcare and relaxation?
If you use a sauna wrongly, you will not get the desired effects therefore, it is good to ask the sauna's host for advice. A sauna itself can be a heavy burden on your organism that's why it is important to use it after effort not before. At the beginning you choose the lowest bench to acclimatize your organism to the high temperatures and later you can take a higher bench. When you feel overheated you must leave the sauna immediately. After a sauna you must take a shower with hot and cold water interchangeably as it increases your circulation system and strengthens your immunity . During a break in a sauna, you should not drink sparkling drinks but only still water, and fruit and vegetable juice.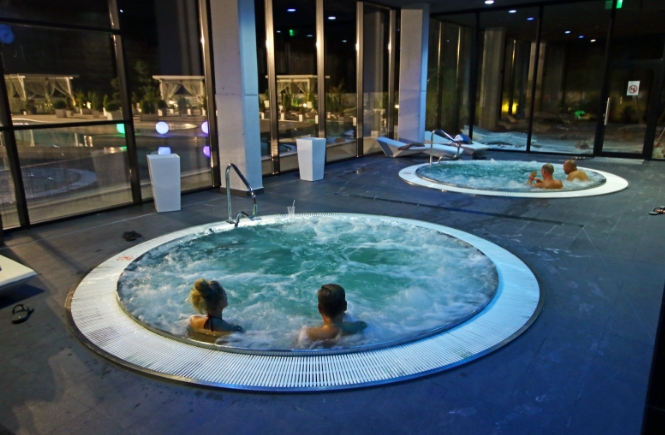 If you want maximum relaxation, you should go to the sauna with a sauna master. This kind of ceremony is characterized by a wider therapeutic and relaxing effect than a traditional sauna thanks to specific scents and hot air distributed by the sauna master with the use of a towel. The sauna master can make your visit to the sauna more attractive and in addition you can have a massage with the use of a birch switch, drink fruit juice, iced coffee and eat eucalyptus sweets.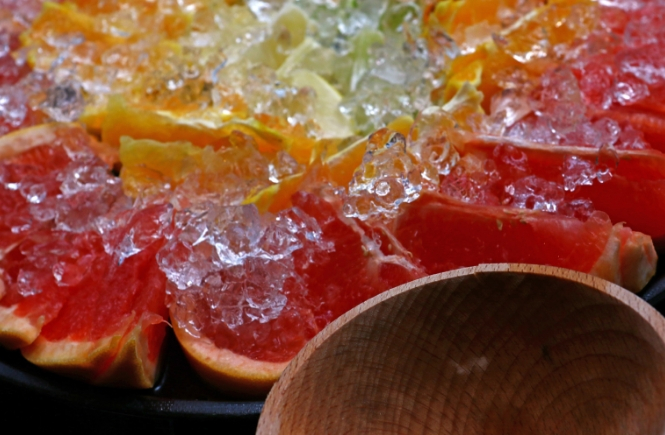 What is a sauna culture?
If you want to take full advantage of a sauna, you are to follow a few simple rules. First of all, you can only wear a towel or a special sheet in a sauna that is used for sitting or lying on. Before entering a sauna leave your jewellery outside and remove cosmetics from your skin because they impede sweat absorbsion. It is important not to talk in a sauna as the hot air that you inhale should get into your organism by the nose and not by your mouth.
Which cosmetics should you use after having a sauna ?
After the sauna your skin is noticeably cleansed and better supplied with blood. If you want to have the effect as long as possible you should drink a lot of liquids, you lose 1 liter of water and moisturizing and nourishing the skin with proper cosmetics is important, It is also worth remembering that cosmetics should be soft, natural and dermatologically tested.
How to encourage guests to go to the sauna in Varmia Thermae?
A sauna is a great place to relax and improve you both physically and mentally. You can go on your own as well as with your friends and family and the sauna master will take care of your every needs.
SO – Go to a sauna to get health and wellness
When the temperature falls below zero and the evening are long, cold and dark, it is easy to feel down. At this particular time you should take care of your health, appearance and good mood so we recommend taking advantage of the wide offer available here in Varmia ad Masuria .
Russian banya in Galiny
The Russian banya owes its beneficial properties to a specifically prepared ritual. A construction built from wood and natural stone welcomes its guests with the relaxing aroma of wood and essential oils. Apart from the banya with its wood-burning stove, there are also special drinks with purifying qualities such as kvass, various herbal teas with honey, raspberry and birch juice. Getting under a cold bucket of water or jumping off a pier into a cold pond has the best effect at the end of the ritual.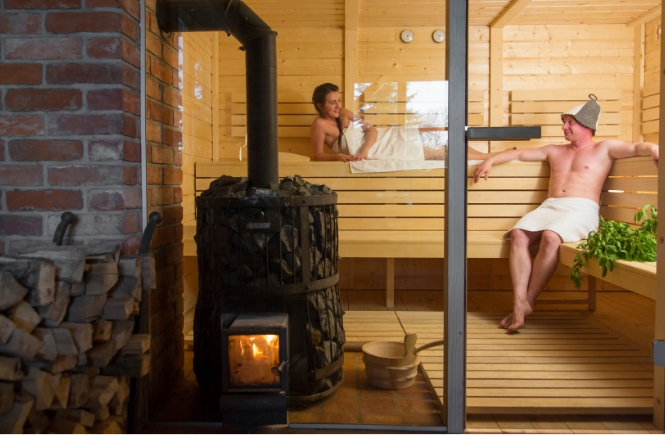 The Sauna Zone in Hotel Krasicki
The sauna zone consists of Steam saunas, Finnish saunas and infra red ones impresses with their design and a special offer of rituals. Fans of hot steam baths can experience an amazing sensation for the body and soul. The ritual begins with body peeling with the use of cosmetics including green tea extract with marine salt crystals for detoxifying, remineralizing and nourishing qualities. Then there is a ceremony with aromatic towels involving the sauna master and the ice- cold part to finish it off .The cold will refresh and nourish the skin well. At the end of the ritual, guests can participate in sampling a non-alcoholic drink like Mojito.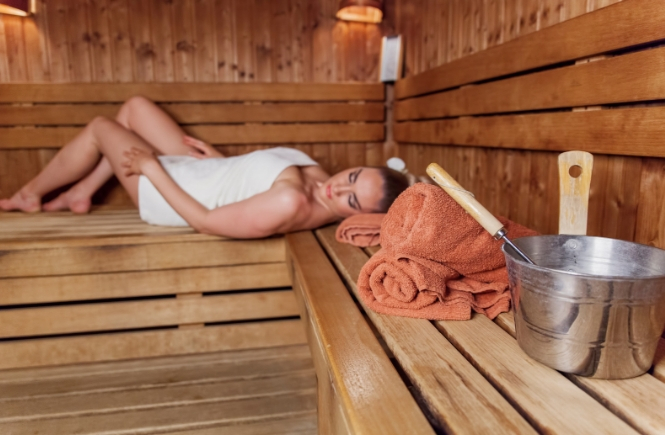 Sauna and shower experience at tepidarium in Hotel Venus
There are three kinds of saunas- dry saunas, steam saunas and infra red saunas, several showers and a tepidarium in Hotel Venus Natural & Medical SPA in Gołdap. In Gołdap there are saunas for 2 and 3 people that guarantee comfort and an intimate atmosphere. Those who warm up and cool down their body interchangeably will fully feel the positive effect of a sauna. It guarantees relaxation, muscle regeneration and reduces the effects of stress. After a sauna, you should get under a bucket of cold water and' go from the Artic to the Tropics', as the saying goes. While taking a shower, you can see different colours lights, smells and hot and cold aromas which add more to the experience. After having a shower, you can go to the tepidarium – a relaxation zone with heated deckchairs and sunny meadows which give you a natural and light tan which enhances your good mood.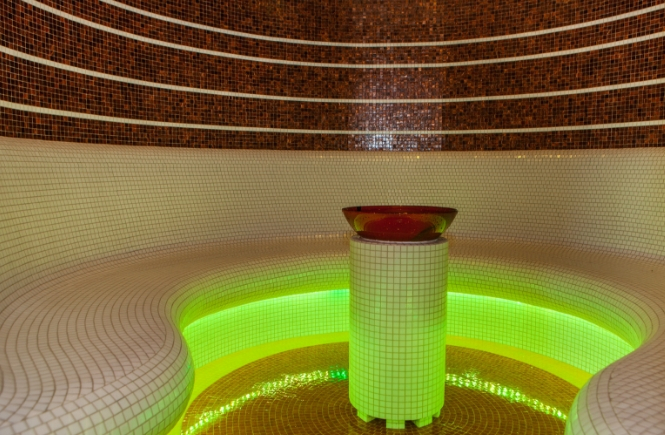 A sauna under a castle
There is a modern sauna zone in Hotel Ryn's basement . Guests can have a Finnish sauna, a wet (Roman) sauna. Saunas that are close to the underground swimming pool are open every day. In Princess Anna's SPA you can improve your vital forces thanks to the power of the four elements.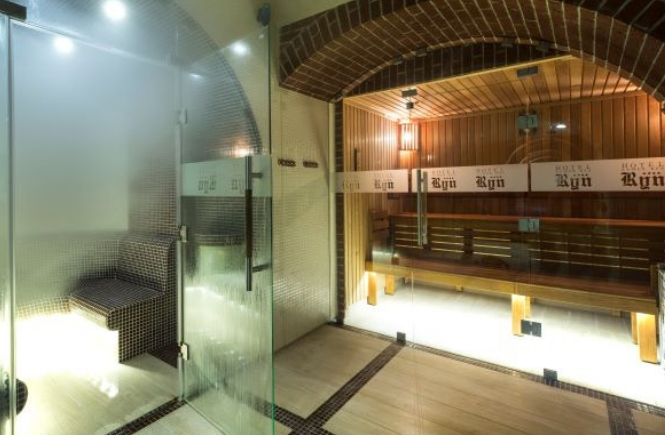 Masurian banya in Tajty
Hotel Tajty that offers you a great stay in the outdoor SPA zone with Finnish and Masurian banyas is located in Wilkasy near Giżycko. It is open all year round and, it is especially recommended in winter. The Masurian banya is a special bath which relaxes and improves the condition of the body.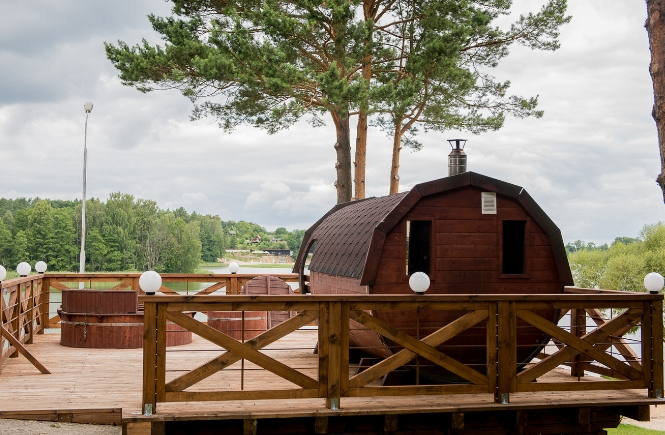 World of saunas in Hotel Mikołajki
Health and relaxation , the two words that are the most important in the World of saunas in Hotel Mikołajki. A group of experienced therapists help guests choose an ideal place to relax. Guests can choose between dry, salt and infra-red saunas and the visit to each of them has a positive effect on your beauty and health and helps maintain skin firmness and get rid of toxins from the organism. It is worth going to the steam, aromatic and mud bathhouse as the high temperature and humidity of air take good care of the harmony of the body. Special bowls for dipping your feet in and relaxing heated benches are obligatory for this visit.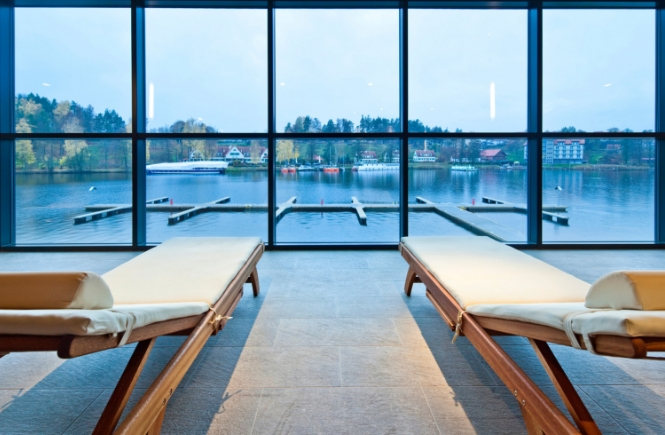 Relaxation in Robert's Port
Robert's Port invites guests to visit its Finnish, infra-red and steam saunas. Three types of sauna give a lot of possibilities for relaxation and therapy. The Infra-red sauna has specific health qualities and dry and steam saunas help to get rid of toxins from the organism quickly. The Sauna complex in Robert's Port is not only a place where you can feel blissful relaxation but, it is also a place where you can regenerate and recover your vital strength.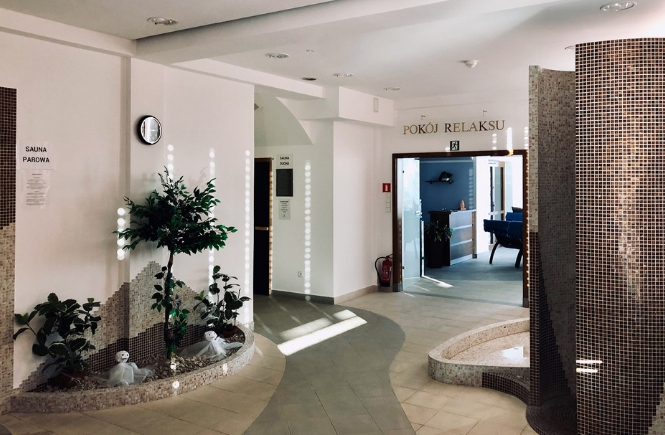 Four types of sauna in Hotel Natura Mazur Resort& Conference
Hotel Natura Mazur Resort& Conference Warchały has a wide range of wellness with four types of sauna. The Bio- sauna is characterised by a high temperature of 60 degrees and the use of natural, essential oils. The Finnish sauna with dry air and temperatures vary from 85 to 100 degrees thanks to hot stones. The Steam sauna is characterised by lower temperatures around 50 degrees and high air humidity. The Infra-red sauna is a sauna where infra red heaters emit heat that brings the sauna up to 60 degrees.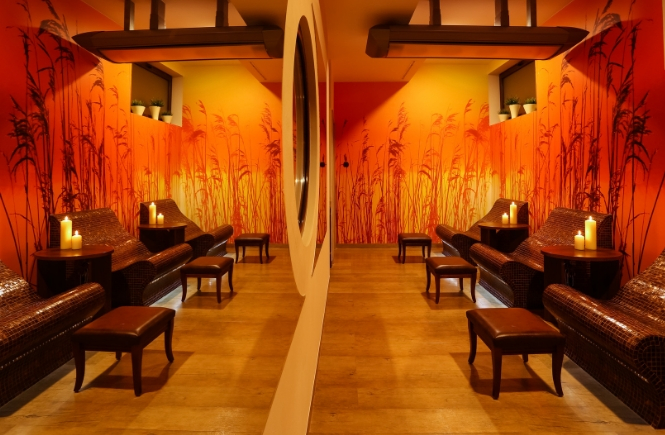 Banya overlooking Lake Masuria
Beautiful views, unique atmosphere and attractive location-these are the main reasons why you should visit banya in Masuria Hotel& SPA in Worliny. A unique location is something that fascinates most visitors.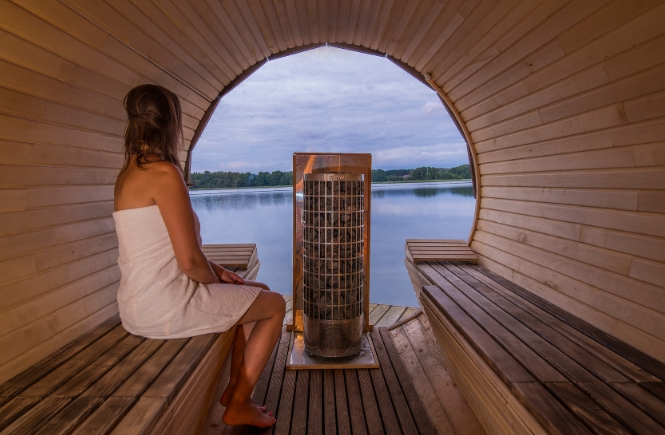 How the soul feels in Hotel Anders
Hotel Anders in Stare Jabłonki is this year's (2018) winner of the SPA Prestige Awards prize. The hotel was in the top three of the best Spa &Wellness hotels in Poland in two categories-the Best Eco Spa and the Best Family & Baby Spa and in the top 10 best Spa & Wellness places in Poland. There are 8 Spas and attractive wellness centre. There is also a pool, jacuzzi, saunas, hydro massage baths and a tepidarium.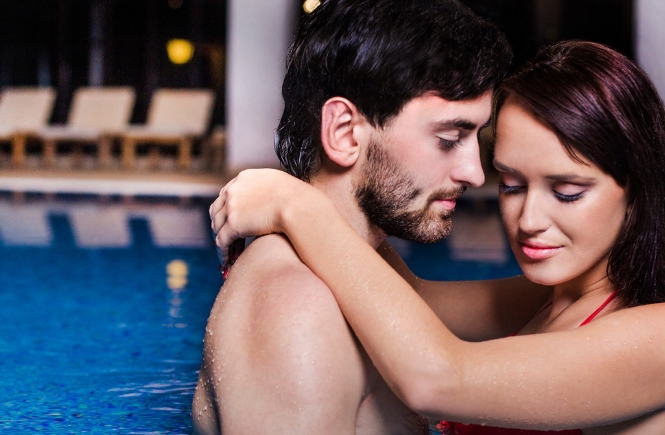 By Justyna Szostek/Kamila Górecka-Kirwiel