An increased nutritional awareness, a search for natural resources and unique places to stay and relax well if that is what you are looking for, you don't have to look further than Varmia and Masuria. In this article, we will take you on a culinary journey to unusual places with unique cuisine in an interview with Ewa Pe- a culinary blogger who cooks and promotes vegan and vegetarian cuisine.
I had a chance to see Ewa cooking and try some of her dishes. Although, I do eat meat I was tempted by the colours and floweres served on my plate and I must admit that I really liked the dishes based on the natural ingredients that are found in Varmia and Masuria.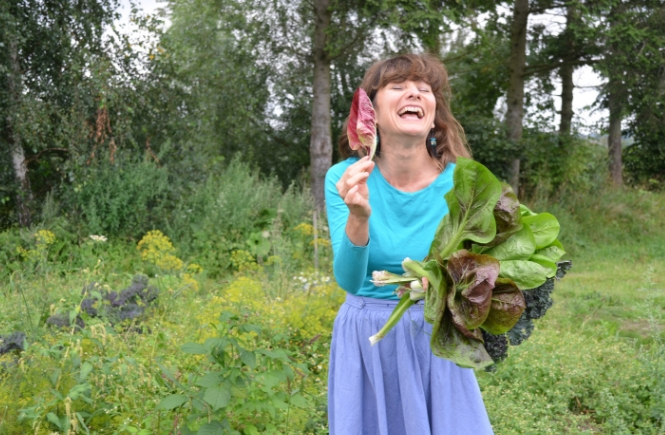 Ewa- veganism and vegetarianism are becoming an increasingly, popular, nutritional trend that You passionate about. Where does your idesa and flair for colurful and vegetarianism cooking come from?
There are many people who are interested in traditional cuisine but, I wanted to try something different. I love nature so vegan and vegetarian cuisine was a second nature for me. I come from a little town called Zyndaki near Mrągowo and since childhood I have been fascinated by the surrounding gardens, fields and meadows. I have always picked grass and flowers and cooked and served them with other natural ingredients.
What was next?
As I was interested in plant life, the colours, shapes and structure and later I started to take photos of nature. My passion for art was noticed so I went to Art secondary school and after that I started to work as a graphic designer. However, as fate would have it, I suddenly lost my job.
Let me guess, it was a turning point in your life?
I suppose so because very often a crisis brings unexpected possibilities. The changes came to me so I just went with the flow. At that time I had a blog where I was regularly putting photos – it was a photo culinary-nature notebook for me. One day a friend from secondary school called me – Artur from Fine Place, in Polish Fajne Miejsce, who knew about my passion for cooking. Artur said 'Ewa you always cook something-maybe you will try to share your dishes with guests'? I went to him, cooked something and talked all night with his guests. Thanks to so called 'word of mouth' my cuisine became known. I often go to Fine Place, which was established by Artur and Tomek, in Tłokowo in Varmia (www.fajnemiejsce.pl). Both of them had designed clothes for many years and 10 years ago they decided to start living in Artur's hometown. They built a guesthouse where guests now like to try my dishes such as: daisy salad, violet salad, pansy salad, carrot-nuts pasty, fig- birthday cake and cashew birthday cake.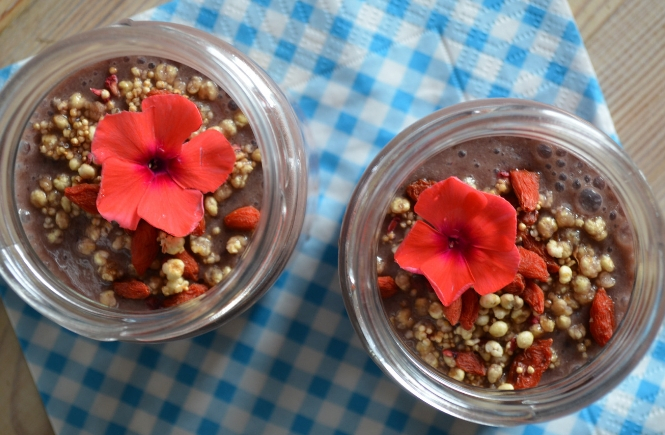 There is Fine Place but, there are also other places in Varmia and Masuria that you visit regularly too . Is your place of choice determined by any other factors?
I look for places close to nature. I don't know if these places find me or if I find them. I like the stories of people who move out from big cities to the country to find a new life. Their closeness to nature is the most important and this encourages me go to their kitchen and cook for a while. The owners of the places with soul where I cook revitalize the region and create new quality.
Cooking is a big pleasure. I think that the pot and its content is not the most important. I have the impression that every meal is a kind of culinary journey through the richness of Varmia and Masuria. As it is widely known, travelling can broaden horizons and opens unknown deposits of energy and creativity.
I agree. When I cook for people I do not know I notice that cooking and eating food together is an amazing experience. The energy changes with every bite. Sometimes when guests sit at the table they are tense, maybe even not nice but the dishes served with flowers loosen people up, they open up and talk about problems, families, ect. As the old saying goes' the way to a person's heart is through their stomach.

What other places apart from Fine Place do you visit?
Sour Apple Kwaśne Jabłko and Moniówka (www.moniowka.pl) are places where I find positive energy for cooking. They are situated in Varmia which I believe has a magical power for attracting different kinds of interesting people.
What natural resources do you use in your dishes?
I use flowers such as: peony, daisies, beet root whose leaves can be used to coil other marvellous things. I serve kale in different forms, rutabaga, scorsonera and herbs like- borage which is blue in colour and has a melonly -cucumber taste. It is entirely edible and you prepare it in the same way as spinach.
Where do you get all these ingredients?
I am lucky because I meet people who like sharing their garden produce with others. I often go to PGR Tłokowo where at Lukasz's I buy scorsonera, kale, melons, cucumbers and tomatoes that grow outdoors.
Can we meet you anywhere and buy your dishes?
You can meet me only in Varmia and Masuria. Although, I am invited to cook in other parts of Poland I feel best here and I have many places to discover. I am very attached to the region. During the Eco Market in Jeziorany I sell gluten-free plant pate and vegan desserts every Saturday (9:00-12:00) from 1st of June to 30th of September. Revita Varmia Foundation run by Rafał and Marcelina Mikułowscy (www.revitawarmia.org) organise the 4. edition. You can meet other local exhibitors. You can meet Stefan there with his goat's milk cheese (www.owczarnialefevre.com), buy soap produced in the Sour Tree (Kwaśne Drzewo) and honey from the apiary nearby Jeziorany (www.siedlisko-pasieka.pl).
This year I will for sure serve vegan lunch also in new places such as: Patryki Mill (www.mlynpatryki.pl) and the Foresters' house Gaja (www.lesniczowkagaja.pl).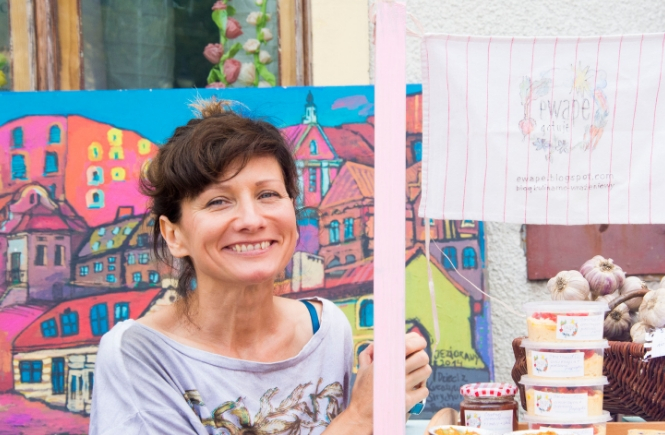 I organise dinner on the grass.
What is dinner on the grass?
I put the table on the field where guests can try what I prepare. You can imagine the moment of harvesting during the meal.

Have you got any further plans or ambitions?
My friends encourage me to write a book. Some of them even think that I have already written one. Maybe one day I will do it and show nature in the framework of interesting places and people who live here and their history. It would be a good guidebook about Varmia and Masuria. There would be places where I can invite guests to join in the cooking. I would like to show interesting places in the framework of culinary events.
Ewa plans like cuisine sound good! I hope you will realize them. Thanks for the interview.

I will add that during the interview as well as sampling her dishes I felt that creating and learning the secrets of vegan cuisine make Ewa a very happy Woman. As someone once said, 'like what you do and you will never work again'. More about Ewa on: www.ewape.blogspot.com.
Interview: Justyna Szostek