While travelling in Poland or around the world we usually want to see not only attractions and taste the best local food but we also want to learn about local history and culture. Eco museums also known as 'dispersed museums' allows you to do some sightseeing the way you like to. They are located in a particular area and consist of a network of attractions including, nature, culture and places of historical interest. The basic idea behind eco museums is that visitors participate in the itinerary created by themselves. In addition to sightseeing, eco museums offer the possibility of tasting local culinary products, taking part in handicraft courses and workshops, participating in typical farm work, wandering on theme educational paths and a lot more too. That's why such areas are ideal for hands-on sightseeing.

A good example of an eco museum is the region around the Elbląg Canal in Varmian-Masurian voivodship. Known around the world as the Elbląg Canal, its hub and 20 other local attractions belong to the local eco musuem system. While encouraging you to go sightseeing also highly recommended is a cruise on the Elbląg Canal. The Canal is believed to the only one of its kind in the world functioning where ships 'sail' on grass and move through slipways using just the power of flowing water. How did it happen that it is here where the world phenomenon was built? 150 years ago a Prussian engineer George Jacob Steenke offered local foresters living inland the chance to transport their cargos of wood and other raw materials to the Baltic sea and then on to further parts of the world. He designed 5 ramps that mitigate the difference in water levels. Today, it is used mainly for recreational purposes and on a cruise you can admire the unique nature and hydro technical engineering solutions that have been preserved and maintained. Four carriers offer cruises providing different conditions. For more information contact:
Żegluga Ostródzko – Elbląska – www.zegluga.com.pl
Bursztyn – www.statkiempotrawie.com
Cyranka – www.statki.ostroda.pl
Zefir – www.zefir.ostroda.pl

You can also sail yourself on a pleasure craft along the Elbląg Canal and moreover it is not restricted, you just need some local knowledge and up to 10 people can sail on a pleasue craft. Such a cruise is a good opportunity to experience pristine nature in peace and tranquility. Memories of you passing through the slipways will probably be lasting. Another option is to rent a barge from the Good Time Charter company – www.GoodTimeCharter.pl– whose owners will help you plan the route, talk about the region and places worth visiting.

If sailing becomes too peaceful, you can stay for a night in Kłobuk Roadhouse which is famous for its beautiful bedrooms and great food or in the historic Manor in nearby Sople.
It is in Kłobuk where George Jacob Steenke – the brains behind the Elbląg Canal lived and worked in the 1840s. Apart from several attractions there is a restaurant with Varmian and Oberlandzki cuisine. It is based on seasonal products from local producers. You must go to the shop too with local products and souvenirs too – www.klobuk.pl
If you want to relax from the hustle and bustleof modern life, turn the phone, tv, computer off and it is worth staying in the 19th century Manor in Sople. An ideal place to relax and maybe read about the local attractions surrounded by nature – www.dworeksople.pl

It is worth mentioning that near Buczyniec slipway close to the village of Krasin there is a snail farm called 'Snails Garden'. Here y ou can have new culinary experience thanks to snails from the land of the Elbląg Canal. The dishes are prepared on the basis of owners' original recipes. Their own award-winning cookery book with original recipes is highly valued in the culinary world. At the heart of the farm there is a house in the shape of a snail with walls made from clay and straw. We also encourage you to try cosmetics made from snail serum, there you can buy face, hand and body creams made on site. If you meet Grzegorz the owner you can ask him about the different kinds of snails he farms – www.bistroslimaka.pl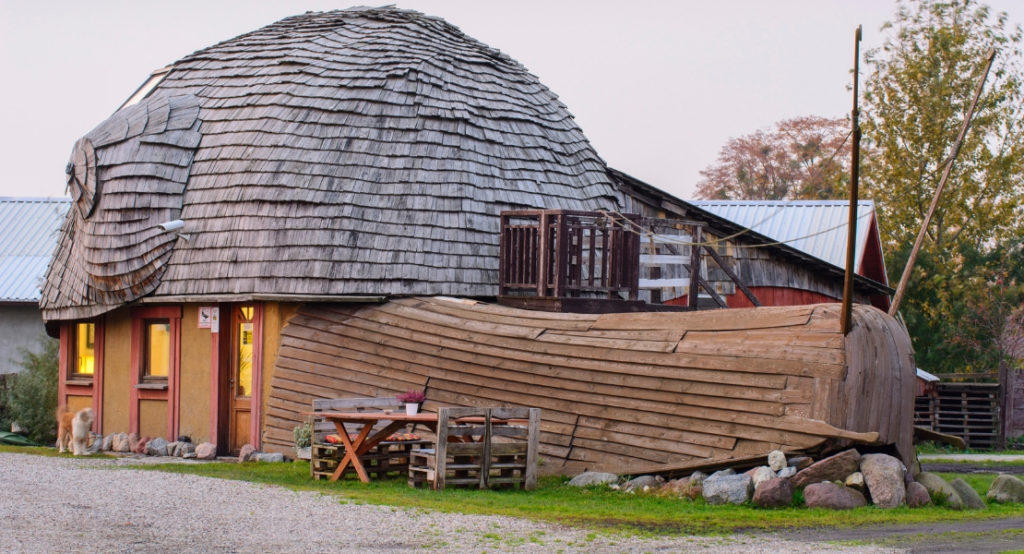 You can travel in the land of Elbląg Canal by canoe or by bike surrounded by natural history and beautiful landscape.
More information on :
www.krainakanaluelblaskiego.pl/ekke
www.kanalelblaski.eu
www.goscincenaszlaku.pl

By Justyna Szostek in co-operation with Stanisława Pańczuk