Cittaslow towns cultivate strongly their own traditions and have their own unique soul. Little museums showing great moments in history have a specific character. Let's have a look at a few of them.
Działdowo where you can feel the spirit of Teutonic knighthood. A little town located off the beaten track in the region of Warmia-Masuria, fortunately, the Pendolino train stops here. There's an interesting museum called 'Interactive Museum of the Teutonic Knight Territory' in the town hall. There you can trace the history of the Teutonic Order from its creation in the Holy Land up to the present  including, where their headquarters are located in Vienna ,on multimedia touch panels and projections (3d and augmented realities). Special music, comics, costumes and puzzles  are available for children. In 2014 the museum was a successful candidate in the competition 'the 7 New Wonders of Poland' ('7 Nowych Cudów Polski ') organised by National Geographic. Besides the museum, the XIV century castle as well as the neo-baroque church are worth visiting.
More information on www.muzeum.dzialdowo.pl
In Lidzbark, situated approximately 25 km from Działdowo, you can feel the spirit of the fire service in Voluntary Fire Service (Ochotnicza Straż Pożarna) that has existed here since the 3rd May 1898. There is also 'the Firefighting Museum' (Muzeum Pożarnictwa) established in 1972, where the oldest exhibits date back to XVI century. Among some of the exhibits are uniforms, Polish and Prussian helmets,a wooden fire- extinguisher of a rare old type, syringes, tubes,a wagon and fire-fighting vehicles. In front of the building there is a gas lantern from 1903. As a point of interest, the model of the fire pomp 'Syrena' from Lilpop, Rau and Loewenstein factories was used in the production of the iconic Polish car the 'Syrena'.
In the town there are also two more museums – the Natural Museum and Etnographic Museum. In Lidzbark you can also travel by Welex – tourist low-speed electric vehicles and relax by the lake as well if you wish.
Museum Sightseeing is possible after prior arrangement- phone No.: +48 730 757 752
More information available on : www.lidzbark.pl
After a rest, let's move on to Olsztynek. A ride of 58 kms along the way you pass where the battle of Grunwald took place.The Interacive International World War 1 Camp Museum 'Stalag IB and the History of Olsztynek' opened in 2015 in the town hall. Stalag IB Hohenstein (1939-1945) was the second largest, international war camp in Eastern Prussia. You can experience the specific atmosphere regarding the history of World War I and its consequences for Warmia and Masuria including former Tannenberg -Denkmal mausoleum. In front of the museum there is a statue of a lion that commemorates XII Masurian Infantry Division-XII Mazurska Dywizja Piechoty -fighting in the battle of Tannenberg in 1914. During your visit to Olsztynek you must try the famous 'jagodzianki' buns filled with local bilberries ,which can be bought in a local cake shop ' Cukiernia Jagodzianka' in ul. Mrongowiusza 7, or have dinner in the restaurant 'Z Zielonym Piecem' which is a member of The Culinary Heritage Organisation – www.zielonypiec.pl – ul. Floriana 1.
Opening hours -Monday to Friday 8:00-16:00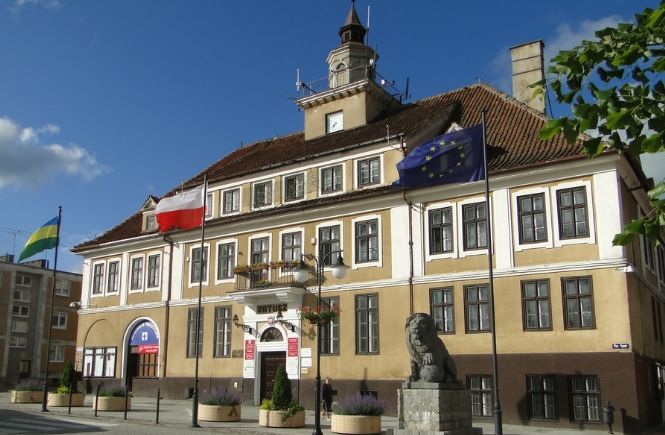 More information on: www.olsztynek.pl
After sampling some local specialities, on you go to Barczewo in Warmia which is situated 60 km from Olsztynek. It is worth travelling via Mierki, to a place called Bałdy,to see the site of the historical border of Warmia nad Masuria and Aleja Biskupów Warmińskich. the Avenue of Varmian Bishops. Barczewo has a patriotic-musical soul with its history found in the museum, established in 1961,it is called Salon Muzyczny im.Feliksa Nowowiejskiego. The museum is devoted to Feliks Nowowiejski who was born in Barczewo. Feliks Nowowiejski is the author of patriotic songs such as 'Rota' the 'Warmian Anthem'. Salon Muzyczny im. Feliksa Nowowiejskiego has also an educational-cultural function. Various concerts, history  and music lessons are organised here.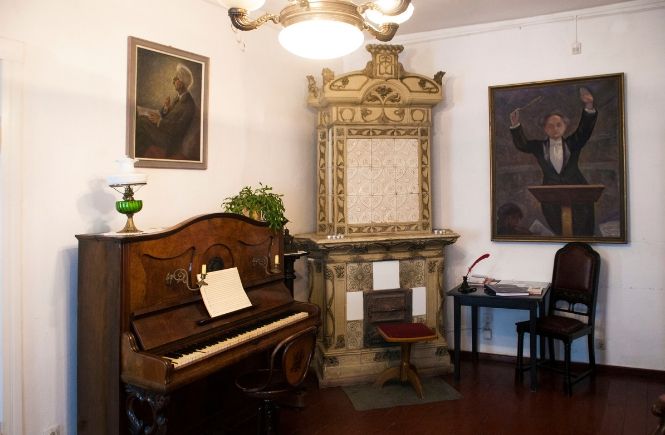 Salon Muzyczny is open from Tuesday to Friday 10:00-16:00
Feliks Nowowiejski's International Festival Of Choral Music is an annual event which has been taking place for more then fifteen years. Barczewo is also famous for its prison that has been in use since 1810. Unfortunately, sightseeing is impossible.
Now it's time to draw breath. There're more such places in the charming little towns and villages under the Cittaslow orange, snail banner and soon we will come back to them.