Picturesque, many- mile, long cross-country skiing trails and hilly terrains are ideal ski slopes. Thanks to such attributes Varmia and Masuria is a great place for winter excursions so you do not have to go to the mountains to spend your free time as there are more and more ski lifts and ski resorts becoming available here.
Ski resorts in Warmia and Masuria offer not only ski slopes of different levels but also snow tubing tracks, sledging tracks and many other attractions. Slopes and tracks are usually boosted by artificially made snow ,illuminated and well- maintained and on site there are restaurants, ski schools and ski rental equipment shops.
Flying downhill
Kurza Góra- Kurzętnik
Kurza Góra located in Kurzętnik near Nowe Miasto Lubawskie is one of the fastest developing ski resorts in Poland. The Ski resort 'Kurza Góra, offers three varied slopes, ski rental equipment and a ski school. An ice-rink and a tubing track have been built in the last year to add to the already rich infrastructure . The owners have prepared another new surprise for guests so you better visit Kurza Góra this year. www.kurzagora.pl
Beautiful Rudziewicz Mountain- Gołdap
Near Gołdap there is a beautiful place called Rudziewicz Mountain which offers 2000m slopes of different levels of difficulty to test your skills. All slopes are illuminated, artificial snow and well- maintained. If there are proper snow conditions, a sledge track 1200m in length is available too. At the foot of the mountain , there is a roadhouse which serves great game meat dishes and kartacz-dumplings. On the top of the mountain you can treat yourself to a hot cup of coffee in the revolving restaurant. www.zajazd-rudziewicz.pl
Mikołajki
It is good to visit Gołebiewski Hotel in Mikołajki as there is an artificial ski slope 700 m long available. You can also use the year-round sledding track. =www.golebiewski.pl/mikolajki
The Masurian Centre 'Okrągłe' situated near Orzysz and Wydminy offers slopes and other winter attractions. Not far away from Olsztyn there is another ski slope called 'Kartasiówka'.
Kartasiówka
A ski lift 'Kartasiówka' is located in Rus,7 km from Olsztyn, in the area of the nature reserve Warmian Forest. There are three 280 m ski slopes plus a 220m track for intermediate level skiers 1 ,220m a T bar lift, for intermediate 2 260m T bar lift and for beginners a 220m T bar lift. The slope is illuminated and helped by artificial snow. There is a food and drink bar and a ski rental equipment point as well – www.kartasiowka.pl
Masurian Ski Resort Okrągłe
Masurian Resort Okrągłe is situated not far away from Orzysz and Wydminy. The specific micro climate in the region provides good conditions for skiing and snowboarding. There are three T-bar lifts including a rope ski lift. There are four tracks of different levels ,a red track which is more demanding , the 400m easy blue track, a 700m easy, and a training track for beginners .The tracks are illuminated, have artificial snow and are well-maintained. You can use trikke skki – easy to use equipment to drive in snow conditions. There is a bar for refreshments and a ski rental equipment point. You can organize a campfire and go to a Russian banya as well and another attraction not to be overlooked is the Safari Zoo where you can travel by jeep in an area inhabited by wild animals. www.skimazury.pl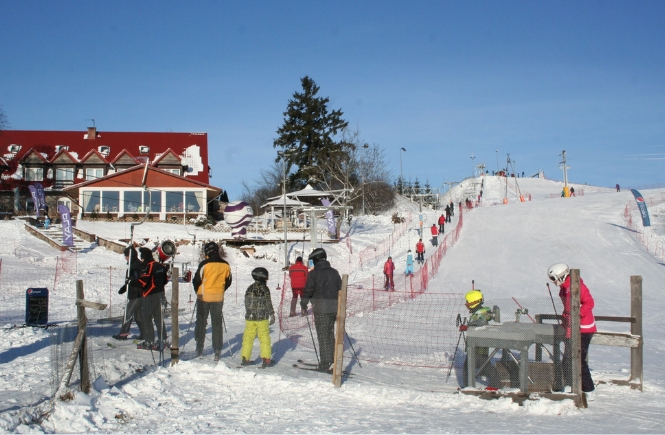 The Mountain in Lubstynek near Lubawa
The mountain in Lubstynek well prepared for winter conditions offers the possibility to admire a part of the Dylewo Landscape Park. There are two tracks of a different levels of difficulty. Two 300m tracks are quite easy so they are ideal for beginners. The slope is helped by artificial snow thanks to two snowmaking machines .This slope is a little off the beaten track so it is a good alternative to the more popular venues. There are qualified instructors and a ski rental equipment on site and at the foot of the hill there is a bar where you can get warm nourishment in a family atmosphere. FB Wyciąg Lubstynek
Far away
Cross-country skiing is very popular in Varmia and Masuria. Sasinowie and Jaćwingowie cross-country skiing competitions take place every year around February. www.biegsasinow.pl, www.biegjacwingow.pl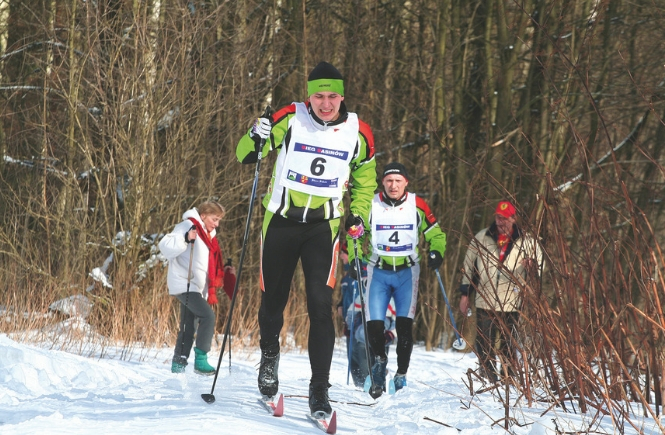 A place that can be recommended for cross-country amateur skiing andthose of you who don't want to take part in competitive events but just visit Warmia and Masuria for its winter attractions is Jabłoń Resort&SPA and the Ski Village Wiartel. We especially recommend cross-country skiing on the frozen lake Brzozolasek or in Piska wilderness. Apart from an individual trip you can also take part in group cross-country skiing with an experienced guide. Every year, around Jabłoń special cross-country trails are prepared and those trails are connected to those prepared by the Ski Village Wiartel, which offers 40km of continuous cross-country trails. We recommend the long trails to Ruciane for more advanced cross-country skiers. www.jablon-resort.pl/biegowki-mazury, www.wioskanarciarska.pl.

In winter cross-country skiing can be done in the heart of Olsztyn at Lake Ukiel where the walking paths are changed into ski trails if there are favourable conditions. Skis, special boots and sticks can be rented in www.osir.olsztyn.pl/pl/ukiel.