On our numerous research trips through Warmia and Masuria, we are constantly looking for new places which are unique and offer more than just accommodation and catering. In this issue of our magazine, we present new facilities – places where each detail is well thought out and the owners are striving to improve their products to satisfy the changing needs of the tourists who come to Warmia and Masuria in growing numbers. We believe you will find something here that is just for you.
Between two lakes
Grange Łuknajno is located in the picturesque Masurian Landscape Park between lakes Łuknajno and Śniardwy -the biggest lake in Poland. If you like having active relaxation outdoors, we recommend Łukajno Farm, 5 km from Mikołajki at Śniardwy lake within the borders of the Masurian Landscape Park. The main attraction is the ornithological Reserve Łukajno lake with two observation towers overlooking Śniardwy lake. Grange Łuknajno offers 11 guest rooms and 'Pod Łabędziem' restaurant with local Masurian food. Guest rooms are painted in pastel colors with ensuite bathrooms and showers, the restaurant is located in an old manor dating from the beginning of XX century. The views from Grange's windows are breathtaking, from one side Śniardwy lake, and from the other side Lake Łuknajno. A private beach with a pier where you can bathe, sunbathe and swim belongs to the complex. You can also fish in the lake and what's more, the fish caught can be prepared by the chef. Free bike are available for tourists who like to explore the beauty of the local nature surrounding Łuknajno on two wheels. The environs are perfect for water sports and there is an equipment rental service and serviced camp site with bathrooms within the grounds of the grange.
Janczar charm
Up until recently, it was Bieszczady which was the 'in place' to escape to from the bustle of city life to find peace and quiet and be close to nature. Every 'city slicker' had their destination in a charming shepherd's hut and a friendly host, called 'gazda'.
For the last few years, Warmia has become the land to escape to and in particular one magical place in Warmia is Janczary agritourism farm. The hosts are known for their hospitality and imagination which add an unexpected twist to trips for their guests. Kidnapping the bride, a parade of Amazon horses, a Warmian feast and a funky fireworks night are among some of the quirky ideas of the hosts. People come back to Janczary for the hosts, friendly atmosphere, great food and to be close to nature.
There is a stud farm here so horse riding is available for beginners and experienced riders. There is a fish pond and a nearby lake for those who want to try their luck at fishing. Janczary is a perfect place for mushroom picking, nordic walking, running and jogging. It is an ideal place for lazy-bones too looking for a quiet place to get lost in a book, for lovers of watersports and those who like active relaxation.
Janczary Agritourism farm also serves as an ideal base for those who want to sightsee and get to know Warmia. The farm farm was set up with the idea of a challenge, feasting and dancing in mind. A lot of people who visit Janczary come back for the warm hospitality, charm and the magic of Warmia which speaks for itself.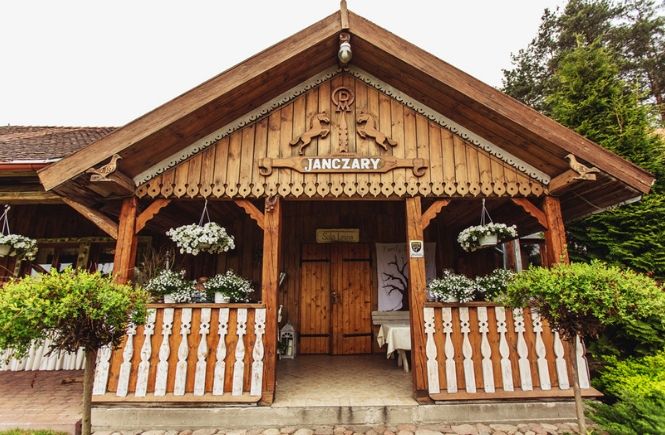 Creative Habitat
Nearby Mikołajki, on the edge of a forest beside a pond hidden away in a valley, surrounded by meadows and hills, where sheep lazily graze, there is a house built in the old Prussian style, it is the settlement of Wygon (Siedlisko na Wygonie). Here time passes slowly and you can take it nice and easy, far away from the fast pace of modern life, sitting by a campfire, gazing at a starry sky, listening to crickets chirping and frogs croaking. In this large area surrounded by nature, there is a pond, a shelter with a place for campfires, hammocks, a football pitch, shooting and archery galleries and a playground for the kids with a large trampoline. A forest is just over the fence and bikes on which you can travel through the Masurian Landscape Park are available to guests. Children can have safe fun in a secure area as the area is fenced off and another attraction are the host's pets that like to play with the kids.
There are four guest rooms available on the ground floor with bathrooms, all of them are furnished in a natural, rustic style with a wooden balcony. Close to the guest rooms, there is a spacious kitchen overlooking the forest and a cupboard full of books and board games. Hand-knitted or crocheted baskets and string rugs, puffs, carpets, woolen blankets and a lot more crafts are made with passion here. These products owe their existence to the local nature which is an inspiration for the artists. The products are created because the hosts love the simple life away from the mundane, repetitiveness of the outside world.
Come and see for yourself what they have built and achieved!
Herb Valley beside the capital of Warmia
Herb Valley is located in the vicinity of the capital of Warmia, just a few kilometres from the centre of Olsztyn. This beautiful place surrounded by forests and a river, is perfect for relaxing and spending time which passes slowly with your family and friends. You can celebrate over a homemade dinner, a barbecue feast or next to a campfire, a slow walk in the forest and more exciting than you would think, wild- mushroom picking. Guests are offered a playground, mini zoo, and many other attractions for the kids and for the adults, events and attractions are organised on request. The hosts offer fishing and shooting competitions, rides in military vehicles and horse and carriage rides through the local countryside. Herb Valley offers accommodation in spacious 2,3 and 4,person- rooms with bathrooms, TV and access to wireless internet. Breakfast, dinner and supper are made from free-range products. There is a fully equipped summer house situated close by, next to a forest, between a pond and a river, for people who want even more privacy and like to relax even closer to nature. The farm is home to various animals such as: horses, donkeys, ostriches, hens, ducks and more. All of them are happy here and every day they bring a lot of joy. They like people because it is a good chance for them to display their charms- something what little kids like in particular. You can stroke most animals without fear and even take your selfie with them. Situated near many tourist attractions in the region makes Herb Valley a good base for a longer stay. During such a stay you can sightsee the many different attractions that Warmia and Masuria has to offer, known and unknown!