Experienced anglers and fishermen and women need no convincing about the attractiveness and fish-abundant waters in Varmia, Masuria and Powiśle. For those who have never tried their hand at fishing, the region is the perfect place to start one's adventure with this form of outdoor leisure pursuit.
Due to the richness and variety in its surface waters, many fish species and fantastic catches can be reeled in. Anglers and fishing enthusiasts will not only find species that are present in lakes and lowland rivers but also fish that are associated with mountain rivers, even some typically marine fish.
Jezioro Orzysz / fot. arch. UMWWM

Jezioro Jeziorak / fot. arch. UMWWM
Advocates of traditional fishing where the fish is caught to be eaten have excellent conditions to develop their passion. When at the fishery, one can get a campfire going (where permitted), and cook up the catch on a stick over a campfire, over the coals, or on a frying pan. The catch can also be fried, grilled, baked, or smoked back at one's accommodation as many agrotourism farms, holiday homes, guesthouses and resorts offer such facilities. The area is also dotted with eateries preparing dishes from the fish provided by the customer.
Angling, recreational or sport fishing is becoming increasingly popular and is fishing for pleasure or competition where, after being photographed and weighed, the fish are released back into the wild.
Lakes, Rivers and… the Sea
There are close to 3,000 lakes in the region and Masuria is particularly abundant in them. The presence of fish species in specific water bodies is dependent on its size and nature, as well as the type of fishing activities engaged therein. In larger and deeper lakes, we can count on the availability of the greatest variety of species (bream, tench, roach, crucian carp, pike, perch, zander, eel, wels catfish, sometimes also common carp, grass carp, and whitefish). Smaller forest lakes that are sometimes partially overgrown and more inaccessible also have their advantages… although there will be fewer species available, some beautiful catches can also be found there.
Jezioro Mamry, wyspa Upałty / fot. arch. UMWWM

Jezioro Ołów, Ryn / fot. arch. UMWWM

fot. © Geobor / Shutterstock.com
The largest rivers in the region, headed by River Łyna, are habitats of species found in lakes as well as typically lowland rivers (European chub, ide, dace, pigfish, barbel, asp, and burbot). But there are also particularly clean and rapid stretches of the rivers where salmonid fish occur that are associated with mountain streams (brown trout, grayling, and sea trout). Catching these fine fish species is rightly considered the tour de force and requires appropriate preparation and equipment (as well as the purchase of a rod fishing licence for the given fishery).
The Zalew Wiślany is a unique reservoir. Due to its direct connection with the Baltic Sea, its waters are slightly salty. Therefore, diadromous species (eel and salmon) coexist with typically freshwater and marine fish (cod, herring, garfish, and flounders: European flounder, common dab, turbot, and European plaice).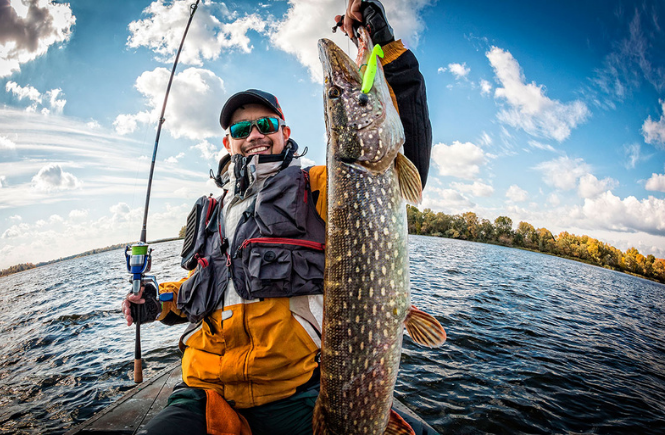 There are also many well-stocked special fisheries in the region that are available on a commercial basis. If someone wants to enhance their chances of a reeling in a big catch, they can take advantage of the offer.
Jezioro Kraksy Małe, Biskupiec / fot. arch. UMWWM

fot. arch. UMWWM

Jezioro Nidzkie, Ruciane-Nida / fot. arch. UMWWM
Discover the Region from the Waterside
There is much useful information for angling and fishing enthusiasts in the tab of the regional tourism website mazury.travel. They can find out about the formalities that must be met in order to legally fish in a given fishery, depending on who it is managed by. In the Varmian and Masurian Voivodship, the waters are managed either by districts of the Polish Angling Association (Olsztyn, Elbląg, Mazovia, and Torun), or various fish farms. To be able to fish in the Zalew Wiślany, a rod fishing licence must be purchased at the Regional Office of the General Sea Fisheries Inspectorate (in Frombork or other locations on the Baltic Coast).
Rzeka Łyna, Bartoszyce / fot. arch. UMWWM

Rzeka Pisa/ fot. arch. UMWWM

Zalew Wiślany, Tolkmicko / fot. arch. UMWWM
The next set of information on the portal concerns protecting and preserving the natural environment while fishing/angling (including periods of protection and size limits, as well as daily fishing limits per species). Apart from that, information on where and what standard of accommodation is available, the best places to eat, along with food recommendations, as well as other attractions in the region apart from fishing/angling.
The continually expanded and updated Fishing and Angling Directory with detailed information on all the lakes, their location, surface area and type, with particular attention to their attractiveness to anglers and fishing enthusiasts and the fish species found there is particularly useful.
For more information visit www.mazury.travel/wedkuj
By: Rafał Śliwiak
Department of Sport and Tourism of the Marshal's Office of Varmia and Masuria