The global pandemic has changed our everyday lives tremendously. It has also taken its toll on the way we spend our free time and our choice of leisure activities. We are now in search of peaceful, serene, and sparsely attended places where we can remain in close contact with nature and engage in outdoor activities, and it so happens that Varmia and Masuria has all this to offer and more! This beautiful region is the perfect place to relax and wind down amidst scenic, natural surroundings, far away from the crowds and the hubbub of big cities – offering a large variety of attractions and activities. Discover just how many amazing places there are to visit and explore!
fot. arch. Hotel Krasicki

fot. arch. Hotel Krasicki
Hotel Krasicki**** – Forever Welcoming
In the centre of Lidzbark Warmiński, a town that over the ages has been referred to as the Pearl of Varmia, stands one of the most treasured historic landmarks – the Varmian Bishop's Castle (together with the Outer Bailey). The Castle now houses a museum, while the Outer Bailey is home to the beautiful Hotel Krasicki****. The hotel has capacity for 250 guests with Gothic- and Baroque-style rooms and apartments that relate to the original aesthetics. It is named after the outstanding Polish poet and prose writer, supporter of the arts, art collector, and great enthusiast of gardens, Ignacy Krasicki. The facility, drawing from the legacy of its esteemed patron, offers a harmonious blend of high-class sophistication with a welcoming, friendly and homely atmosphere. Guests can enjoy the exquisite cuisine of Chef Krzysztof Mazurek of Hotel Krasicki, an extremely talented expert in Polish cuisine who skilfully combines tradition with modern culinary techniques. Gondola rides on the Łyna River from the dock located next to the hotel's reception, astronomical observatory talks with an astronomer, as well as the fascinating Copernicus library with a reading room and café are just some of the attractions that are in store for all who visit. The impressive Copernicus library is an amazing place that is completely mesmerising. Thousands of volumes of books and close to one thousand old prints create a unique atmosphere of peace and tranquillity, warmth and charm, making it the perfect place to escape and settle in for a quiet read or to recollect one's thoughts.
fot. arch. Hotel Krasicki

fot. arch. Hotel Krasicki
A place that is particularly appreciated is St Catherine's SPA with a wellness zone. The SPA offers a wide array of treatments delivered by the best cosmetology and physiotherapy wellness experts who will cater to your personal needs and make sure you get an exceptional spa experience. The subtle yet powerful and effective therapy will allow your muscles to loosen and relax, relieving tight muscles and tension so that you can be pampered. The closely guarded Castle procedures dating back to the Middle Ages are based on recipes from a centuries-old holistic alchemy book using the transformative power of everything that the Varmian forests, meadows and gardens have to offer, including tree resins, cones, herbs, and flower petals. The Baroque and Bizantine style pool tucked away in the Gothic vaults, a jacuzzi and three saunas will help you relax and unwind before your SPA treatments. The Prestige SPA is the pride of the facility offering an exclusive, tranquil and private VIP enclave created for Guests who want to have a luxurious experience and create magical moments never to be forgotten. Here, in the privacy of a VIP suite, Guests not enjoy wonderfully revitalising and highly beneficial treatments and can also have a true feast of flavours with SPA Tapas French sparkling wine and exquisite delicacies. St Catherine's SPA has received numerous awards, including the SPA Prestige Awards for the best holistic SPA in Poland, the most beautiful SPA in Poland (Design Awards), the best business SPA in Poland, and for the most inspiring SPA. To say that paying St Catherine's SPA a visit is simply a must is like saying nothing at all. Guests return not only to the hotel but also come back to indulge themselves with some well-deserved pampering at the hands the professional therapists available there.
The phrase "Forever Welcoming" is the hotel's motto, which has turned out to be very apt. The facility continues the traditions of the Varmian Bishops – open, bright, enlightened, and hospitable people. Here, each and every guest is unique and important – everything about this place gives Guests a sense of privilege to have experienced what it is like to find a forever welcoming second home.
fot. arch. Hotel Krasicki

fot. arch. Hotel Krasicki
Łańsk – The Place Where Time Stops for You
Looking for peace and quiet amidst nature? Wanting to spend time in scenic surroundings, in one of Poland's areas of outstanding natural beauty? Łańsk is a must-visit destination. Situated on an expanse of 220 acres, directly by the beautiful, crystal clear and unspoilt Łańsk Lake through which the equally unspoilt by civilisation Łyna River flows, it is a true oasis of peace and serenity.
fot. arch. OW Łańsk

fot. arch. OW Łańsk
Interestingly, Łańsk is nowhere to be found on old maps from the 1950s to 1970s. Since the 1950s, this land belonged to the Council of Ministers and was inaccessible to the public, open only to the highest public officials, their guests, the armed forces, and the staff. Starting from 1950, the facility in Łańsk hosted Bolesław Bierut, who decided to expand it.
The Łańsk Resort offers excellent opportunities for a truly memorable stay with a relaxing ambiance for families with children and family or friend get togethers. It is a true haven for anglers, sailors and everyone who values the peace and quiet and closeness of the natural environment. The Łańsk restaurant serves traditional Polish cuisine inspired by cherished Varmian recipes.
fot. arch. OW Łańsk

fot. arch. OW Łańsk
This quaint, boutique and intimate retreat is picturesquely located in the heart of the Varmian Forest in the Napiwodzko-Ramucka Forest area encompassed by a Natura 2000 site, guaranteeing a soothing and serene stay far from the flurry of the city, giving visitors the chance to explore and get up close with the wild. Charming Łańsk offers not only relaxation and tranquility but also active leisure opportunities to boost health, wellbeing and immunity amidst beautiful, unspoilt nature. Amongst the many amenities and activities available are: football pitches, basketball courts, badminton courts, water sports equipment hire, and a range of cycling and hiking routes in the area. The unique setting of Łańsk is undoubtedly its key attribute. Guests value this resort for its intimacy, allowing them to freely enjoy the unspoilt natural surroundings and the sheer all-encompassing quiet and tranquility. It also offers endless opportunities for sightseeing the many fascinating places in the area. For those looking to spend their time more actively and adventure-seekers, there is the Bartbo Adventure Park in Butryny. In winter, visitors can take to the nearby ski slope in Ruś.
The retreat has many attractive offers and a wide array of additional attractions for its guests for the ultimate relaxation experience. Check out the Łańsk Resort offer today and discover and enjoy the unique atmosphere of idyllic Łańsk.
Waterside Holiday Camp in Sorkwity – a Haven for Boaters
There is this magical place in the land of the Masurian lakes that brings incredible people together, abounds in amazing flora and fauna, and has an exceptional ambience found rarely elsewhere – this is the Polish Tourist and Sightseeing Society (PTTK) Waterside Holiday Camp in Sorkwity, named after Stanisław Bielikowicz. This is the first waterside holiday camp on the Krutynia River kayaking route, beautifully set on an a charming island on the Lampackie Lake, surrounded by pristine marshes and forests. The centre offers extensive accommodation and facilities, a great tavern serving wonderfully aromatic, delicious meals using a medley of herbs from their own herb garden, adding vibrant flavours and texture to every meal. This is the place where the exuberant heart of the Masurian lake district unceasingly beats, gathering people from far and wide, travellers of all nationalities, friends and families, and solo travellers alike. This is also the launching point for tours of the Krutynia River to experience an incredible water-based adventure… the ultimate in getting up close and personal with nature. The Waterside Holiday Camp in Sorkwity was launched in 1954, which now translates into 67 years of fondly remembered personal stories, adventures, and memorable encounters.
Here in Sorkwity one can truly escape the crowds and the stresses of everyday life, leaving the urban concrete jungle far behind to get the quiet, quality time you are looking for – your only holiday soundtrack will be the dawn chorus. It is also the perfect place for all kinds of water sports – there's only one catch, however, all water craft are muscle-powered only! But this shouldn't be a problem… after all, this is a welcome attribute in today's times!
fot. arch. Stanica Wodna PTTK

fot. arch. Stanica Wodna PTTK
The holiday camp offers kayaks, paddle boats, as well as bikes for the many beautiful cycling and hiking routes in the area, making it a great getaway for cycling enthusiasts, trail runners and hikers. What with the plethora of nature paths and PTTK trails to discover, the area is Varia and Masuria's true gem to be enjoyed and explored. The available hire equipment will meet every kayaker's expectations – particularly that it can be tested before heading out. The facility has a fleet of over 150 kayaks! What's more, the Waterside Holiday Camp offers activities all year round! The perfect conditions for a relaxing getaway amidst the fresh, clean air of the Masurian lake district – no matter what the season!
The Little Sopot Pre-Natal Retreat
An interesting trend that has also emerged in Poland is the launch of facilities offering their services to a very specific group of guests. One such example is the Little Sopot boutique hotel in Iława, which has crafted a unique offer tailored for mothers-to-be seeking to relax, unwind and receive some TLC.
fot. arch. Mały Sopot

fot. arch. Mały Sopot
In order to meet the health and beauty needs and expectations of mums-to-be during these exceptional moments in life, the hotel has been designed with great attention to detail, to ensure that all future mums feel comfortable, cared for, and secure in their pregnancy. All the amenities offered at the Little Sopot boutique hotel have been carefully considered and meticulously designed, drawing on the owner's personal experiences of pregnancy. Many of the solutions implemented at Little Sopot are unique innovations in the hotel industry only to be found in this exceptional oasis dedicated entirely to expecting mothers.
Little Sopot Boutique & Fèminin, located in the historic part of Iława which was referred to as the "Kleinzoppot", is delightfully hidden away with direct access to Lake Jeziorak, the longest lake in Poland. A delightful hotel in a charming setting adjacent to the modern marina and pier of the Iława Marina inland port, it is an oasis of calm, tranquility and relaxation. The proximity of this sanctuary to the revitalised forest and educational routes and footpaths by Lake Slim further facilitates rejuvenation and relaxation and boosts immunity before delivery. It is also the perfect escape for those who prefer to spend their time more actively. Fast, convenient and comfortable transport connections from Warsaw and other cities by Pendolino fast train, S7 expressway or the A1 motorway are available.
fot. arch. Mały Sopot

fot. arch. Mały Sopot
Ensuring a sense of comfort in pregnancy is crucial for the physical and mental wellbeing of every mother and child. The facility has mastered this to perfection on many different levels and offers a wealth of amenities. The apartments have been designed to afford guests a sense of intimacy and luxury. The view from the large, spacious windows overlooks the glistening waters of Lake Jeziorak. Convenient kitchenettes are directly adjacent to the apartments designed to satisfy the culinary cravings of mums-to-be. There is a choice of several breakfast options made from local produce to be served in rooms or the glorious glass conservatory, which take into account individual preferences and specific dietary requirements (food allergies or intolerances).
Hotel bathrooms are full of unique solutions that have been developed specifically to cater for the needs of pregnant women: bathroom grab rails for additional security, and comfortable stand-alone bathing seats in the bath or shower with an overflow filler to prevent slipping or falling. Bathrooms are also equipped with rimless toilet bowls and electronic bidets to ensure the highest hygiene levels. Guests are also welcome to use the orangery leading out onto the top terrace (with a cosy fireplace, pouffes, a coffee machine, decaffeinated coffee, and a selection of aromatic teas), as well as a green indoor area with a graduation tower, arbours and loungers. The facility has also been equipped with water softening filters and air recuperators. The furniture in the apartments have rounded edges with easy access wide entrance doors and shower doors. There is a lift in the 7-apartment facility and a discreet surveillance system.
fot. arch. Mały Sopot

fot. arch. Mały Sopot
Among the complimentary amenities are a remote CTG in the third trimester of pregnancy, online/phone consultations with a psychologist, and access to basic medical equipment and devices. In-room appointments with a professional beautician, physiotherapist or dietician can also be arranged at an extra charge. Another interesting and popular option is an appointment with a professional stylist and a photoshoot with a maternity photographer, which is a wonderful celebration of pregnancy creating a lasting, artistic memento of this exceptional time. Individual sessions with a life coach or mental trainer, which can be arranged upon request, provide invaluable pre- and post-natal support to help women live a better work/life balance and foster wellbeing.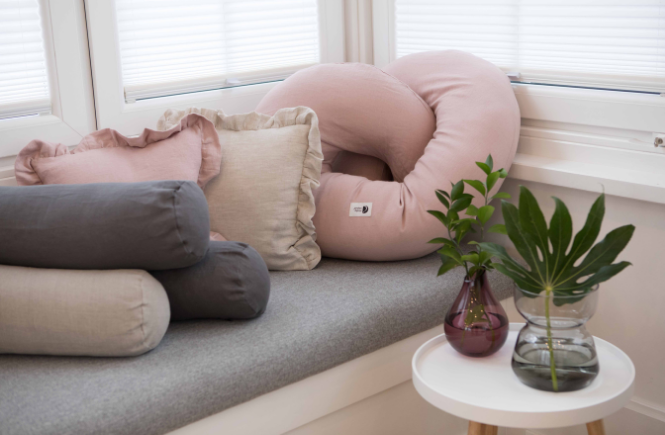 For those more actively inclined, there are plenty of options for peaceful woodland walks, guided tours of the old Little Sopot district, relaxing on the lakeside beach, sailing or even enjoying a leisurely picnic in a tranquil spot on the water in the summer months and on ice in the winter. Those guests wishing to work remotely during their stay in the hotel also have the perfect conditions to do just this with a comfortable desk in each apartment with an in-desk USB charger and printing possibilities. A conference room is also available free of charge. What's more, workstations can also be organised outdoors, in the fresh air with access to ultrafast broadband (1 Gb/s).
The Little Sopot Boutique & Fèminin Hotel was designed and created to ensure that the stay of every mum-to-be is an intimate, exceptional and truly unforgettable experience each and every time.